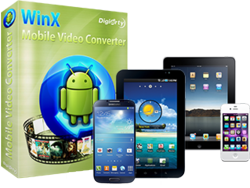 GOTD is giving away the licenses of WinX Mobile Video Converter to all Samsung, HTC, Apple and Google users for a 48-hour giveaway from June 1.
(PRWEB) June 01, 2013
Giveawayoftheday (GOTD for short) is unleashing the licenses of WinX Mobile Video Converter, a span-new Android mobile video converter that has just joined in Digiarty's product line vigorously, for all Samsung, HTC, Apple and Google users. Everyone stands a good chance to get a Children's Day gift through the 48-hour giveaway beginning at 8:00 a.m. GMT/London time on June 1, 2013.
GOTD is an authorized free licensed software distribution website with a huge fan base, the admittance threshold of which has now been so raised that only adventurous software with outstanding features will be approved. WinX Mobile Video Converter is singled out because it outputs videos to many new Android devices such as The New HTC One, Samsung Galaxy S4, Galaxy Note II, Google Nexus 7, Kindle Fire HD, iPhone 5 and iPad Mini. With 320 video and 60 audio codecs, it comes in handy to convert 720/1080p HD videos for cell phones and tablets while enjoying full screen.
"It's time to manage your video files and give them a new look!" - Anyone with interest in the 48-hour giveaway, please head over to: http://www.giveawayoftheday.com/winx-mobile-video-converter-3-0/
This is the initial publicity and giveaway of the new product developed by Digiarty Software Inc., who invites all portable device users to get license code to test the following abilities:
*Convert MKV, AVCHD, Blu-ray M2TS, WMV, AVI, MP4, MPEG, YouTube FLV, VPX 8, WebM videos to Android devices at fast speed;
*Facilitate playing back various videos on Apple, Samsung, HTC, Google, Microsoft, Acer, Asus, Sony, Nokia, Lenovo and Huawei phones and pads;
*Allow adding external *.srt subtitle to the downloaded videos and movies;
*Convert videos to MP3/AAC/AC3/WMA/DTS/FLAC audio file to create phone ringtone.
To know more information about WinX Mobile Video Converter, please visit http://www.winxdvd.com/mobile-phone-video-converter/
Price and Availability
The price of WinX Mobile Video Converter (for Android) is $49.95. But the software is now $0 on Giveaway of the Day. Everyone has the right to download the software by clicking "Get License code". Please do not hesitate to share the link on your blog, FaceBook and Twitter to earn popularity and let more people know about the 48-hour giveaway offer on June 1 and 2, 2013.
About Digiarty Software, Inc.
Digiarty Software, Inc. is specialized in multimedia software based on Windows, Mac OS and iOS6, which provides personal and home used video audio software across Apple iPhone, iPad, Sony PSP, PS3, Xbox, Droid platforms and devices, including DVD Ripper, Blu-ray Decrypter, HD Video Converter, DVD Author, and DVD Copy, etc.