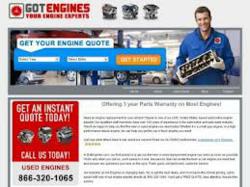 The GotEngines.com website has been able to reach more customers by offering extensions of the OEM warranty to all online customers.
Detroit, Michigan (PRWEB) October 06, 2012
GotEngines.com, the used engine superstore, is hitting record sales numbers in 2012. Sales of online engines from Ford, Chevrolet, Dodge, Chrysler and Cadillac have grown in 2012 compared to years 2011 and 2010 respectively. Part of the sales growth can be attributed to new features that have been integrated recently on the company website. New inventory additions of classic and late model engines and a generous offer for free shipping have helped GotEngines.com to expand its U.S. sales and grow into additional markets. More information about Got Engines can be found by visiting this link.
Sales in the preowned engines industry have been strong for retailers like Got Engines even though the automotive industry hit a slow period in 2009. One theory that has been used by some to assess the higher than average industry growth examined engine quality from motors that have been produced since 1990. Ford, Chevrolet and Chrysler all produced different engine types for the first time during the start of the 1990s.
Vehicles that are now nearing the 25-year mark represent many of the vehicles that are owned by used vehicle owners. These are the vehicles that generally require a used engine replacement.
One of the factors that have lead to the growth of GotEngines.com is the multiple customer types that purchase these used engines for sale. Vehicle owners represent only one type of buyer for the new class of online engine buyers. Mechanics, warranty service companies and junkyards are among the customers now purchasing used engines online. The ability to connect with these business owners from various parts of the United States has helped to make Got Engines one of the leading suppliers of used automobile, truck and SUV engines online.
Engine warranties have long been the topic of discussion in the auto world. Most new engines receive warranties although ones that are used depend on the seller of the engines to extend warranty coverage. The warranties offered through some online sellers last for period of 30 days to 6 months in length. The age of each engine as well as the mileage that is on the engine block are two of the factors that companies use when making a warranty time frame assessment. The GotEngines.com website has been able to reach more customers by offering extensions of the OEM warranty to all online customers.
The new 2012 engine sales data that has been reviewed by GotEngines.com is expected to climb higher into the 2013 year as new inventory is released. Engine buyers that are interested in swapping or replacing an existing engine with a quality used engine could benefit from browsing the Got Engines inventory online at this link http://www.gotengines.com/blog/.
About Got Engines Inc.
Got Engines Inc. was established over 5 years ago online and has grown annually since. By offering lower priced used engines online, the Got Engines company has been able to build a loyal base of customers without resulting in much advertising expense. The growth of online auction engine sales has not affected the business model of Got Engines Inc. due to the dual sides of this engine company. Both car owners and the trade industry are able to place orders for engines online or by toll free telephone number. The Got Engines Inc. company constantly expands its online inventory of Ford, Chevrolet, Dodge, Chrysler and GM engines.