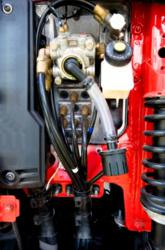 The engine prices that dealerships quote are often too high for someone without insurance coverage.
Jacksonville, Florida (PRWEB) April 03, 2012
Approximate pricing for used engines online can be deceiving for car owners that need an engine replacement. Many engine dealers around the country display a low price to entice a sale, but some customers have been price shocked when presented with the final engine price plus the shipping cost during checkout. GotEngines.com has traditionally had very low shipping rates, but is now offering free shipping in the continental U.S. for every used engine sold. This new price change remains in effect permanently to help customers save money on inflated shipping prices sometimes found when buying used engines for sale online.
The options for purchasing engines offline are very limited. When an engine breaks down, a car or truck owner usually calls a dealership to get a price quote for repair. In the majority of cases, the engine prices that dealerships quote are often too high for someone without insurance coverage. As an alternative to dealer pricing, car owners often search junkyards to obtain a lower price. While engines from junkyards are perfectly acceptable replacements, many of the engines have not been tested by an experienced mechanic prior to sale. This lack of testing can be the cause of engine failure shortly after replacement is made. Many of these used engines on the secondary market have mileage so high that the cost saving benefits compared to the future maintenance needed is way off balance. 
The used engines from Chevy, Dodge and Ford that are acquired by GotEngines.com provide better options to more than just car and truck owners. Experienced body shops, certified mechanics and salvage yards benefit from the reduced shipping prices to earn more profit from every sale or installation. By offering sales to vehicle owners and service personnel, the inventory levels are constantly rotated to ensure that only the best engines are readily available. The GotEngines.com support staff is trained and experienced to handle a high call volume as well as engine price quotes received online. With the maze of engine dealers offering used car engines online, providing excellent customer service is extremely important for business growth and expansion.
The U.S. economic slowdown is not just hitting the retail industry. The rising gas prices and expensive repair costs and putting a strain on car and truck owners. Every driver deserves to have a reliable engine that is fuel efficient and has low mileage. GotEngines.com acquires the lowest mileage engines that are pulled straight from vehicles in great condition as the basis for its engine inventory. Low prices and experienced customer service combined with the recent integration of free shipping catapulted GotEngines.com to record breaking first quarter 2012 sales.
About GotEngines.com
Low prices and a 36-month extended warranty are two of the reasons that GotEngines.com leads the majority of Internet sales for used engines online. Engine buyers from the U.S. and Canada now benefit from a recent 7 million dollar inventory expansion for Ford, Chevy, Jeep and Dodge engines at the GotEngines.com main warehouse and distribution center.