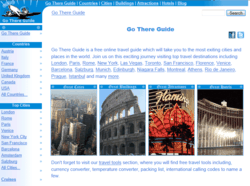 There are hundreds of architectural marvels around the world, and our sights and attractions guide aims to present the most important ones on GoThereGuide.com
Toronto (PRWEB) December 20, 2012
Art Branch, Inc., the parent company of GoThereGuide.com announced today the re-launch of its sights and attractions guide (http://www.gothereguide.com/buildings/), intended for people who are interested in travel and architecture.
The travel attractions and sights guide was re-launched after extensive research on the world's most famous buildings. The guide offers information about more than 200 popular buildings such as La Sagrada Familia, the Colosseum, Empire State Building, and many others. GoThereGuide.com features independent reviews of popular travel destinations, and the architectural marvels guide offers information on awe-inspiring landmarks, architectural wonders of the ancient and modern world, and masterpieces that were built to last.
"There are hundreds of architectural marvels around the world, and our sights and attractions guide aims to present the most important ones on GoThereGuide.com," said John Williams, marketing consultant at Art Branch Inc.
The re-launched guide features 70 new reviews of buildings and masterpieces of engineering, found in 18 counties and 42 cities, including Paris, London, San Francisco, and many others. The reviews tell the story of each building and identify key elements of style. The guides present iconic buildings and describe their design, dimensions, and functions. Visitors of GoThereGuide.com will find information about key details of the exterior and interior, the historic and artistic significance of popular buildings, and transportation means. The guides feature many high quality photos.
The goal of the sights and attractions guide is to help people to plan their vacation, offering information on some of the world's greatest architectural achievements. The guide is intended for both first timers and experienced travelers who are looking for vacation itineraries for the holidays or their once-a-year spiritual retreat. Whether planning a family trip or a solo vacation, tourists show interest in cultural experiences. Visits to cultural and historic attractions are a key factor that drives tourism motivation. Concert halls, galleries, cathedrals, palaces, and other historic buildings attract millions of visitors. People around the world follow into the footsteps of their ancestors and visit religious sites, spectacular historic buildings, and masterpieces of engineering.
About GoThereGuide.com: GoThereGuide.com is a travel guide created by Art Branch, Inc., offering reviews and write-ups of exciting travel destinations around the world.
About Art Branch: Art Branch, Inc., located in Toronto, Ontario, is the publisher of GoThereGuide.com and has produced several consumer oriented websites targeting worldwide audience. The goal of Art Branch is to provide visitors to company sites with free, useful guides, helping consumers to make educated choices.