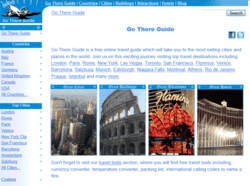 We always advise our visitors to research the hotel where they are planning to stay, prior to booking it
(PRWEB) November 27, 2012
Art Branch, Inc., the parent company of GoThereGuide.com today announces the re-launch of a hotel guide (http://www.gothereguide.com/hotels/), intended for people who are interested in travel and searching for accommodation.
Created by the content development team at Art Branch, the hotel guide offers information on several hundred hotels around the world. The guide is a valuable addition to GoThereGuide.com, which offers independent reviews of many travel destinations but had little information on accommodation options.
"Going on vacation is supposed to be enjoyable, and if your accommodation is bad or poorly located…well, this is no fun. We always advise our visitors to research the hotel where they are planning to stay, prior to booking it," said John Williams, marketing consultant at Art Branch Inc.
The hotel guide includes over 300 new reviews of hotels in 26 countries and 58 cities, including Paris, Rome, London, and many others. It offers information on transportation, price range for accommodation, and popular attractions nearby. GoThereGuide.com presents comprehensive hotel reviews to help visitors to plan their travel, find vacation deals, book accommodation, and unwind from their hectic work schedule. The guide offers reviews of top end hotels, mid-range hotels, and budget accommodation, catering to different budgets.
Visitors of GoThereGuide.com will find information on places of interest, historical attractions, nightlife and entertainment options, shopping venues, and outdoor recreation for unforgettable family moments. The hotel guide offers organized, relevant, and entertaining information to keep travelers satisfied and comfortable when visiting popular cities and out-of-the-way places. Whether traveling to popular tourist spots or exotic places, the guide helps visitors to find premium properties and discount hotels, take up various tourist activities, and interpret local culture. The guide offers comprehensive reviews to enable travelers to feel at ease and secure, with tourist experience provoking positive emotions in them. Most people plan their vacations in advance and see planning as an enjoyable and important process. Readers rely on detailed reviews and descriptions of travel destinations and accommodation, and this is what GoThereGuide.com and the new hotel guide offer.
About GoThereGuide.com:
GoThereGuide.com is a travel guide created by Art Branch, Inc., offering reviews and write-ups of exciting travel destinations around the world.
About Art Branch:
Art Branch, Inc., located in Toronto, Ontario, is the publisher of GoThereGuide.com and has produced several consumer oriented websites targeting worldwide audience. The goal of Art Branch is to provide visitors to company sites with free, useful guides, helping consumers to make educated choices.