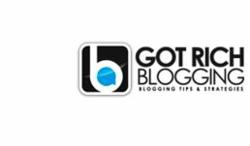 Press releases are another valuable way to promote a blog or site on some influential high-traffic sites.
FORT LEE, New Jersey, (PRWEB) June 10, 2013
Effectively driving traffic to a blog site begins with tried and true strategies for getting the company's word out, according to the latest blog dated June 2, 2013 from GotRichBlogging.com. Titled "Link-Building Tips for SEO and Web Exposure," guest blogger Liz Ernst says that although there are many ways to build links, but link building can be a time consuming, exhausting and expensive task.
Bloggers who are short on time but not on cash should try outsourcing all or part of the link-building campaigns, according to Ernst.
"If you are wary of investing in an outside expert, consider the enhanced exposure, heightened traffic and increased profitability you'll be missing out on," Ernst says. "If you're new to blogging, try beginning with the basics; link-building, for instance, is a vital tool for increasing Internet visibility.
"Additionally, link-building can increase your search engine rankings and overall site rankings on search engines like Google and Yahoo.
Some link-building strategies that anyone can use include:
Infographics. Infographics are a great way to draw attention to topics that interest the blogger's target audience.
"For instance, if you are a mommy blogger who writes product reviews, try creating an infographic about how social media, Internet influences and word-of-mouth affect consumer buying habits," Ernst says. "When you create your infographic, be sure to place your site name and/or logo prominently at the end of the page, hyperlinked to your website so that people can return to the site quickly and easily without being distracted elsewhere."
Press releases are another valuable way to promote a blog or site on some influential high-traffic sites. Submitting professionally written press releases to major wire service distribution sites like PRWeb is a great way to increase rankings by extending the blog's reach and volume of appearances on the Web.
"Make sure your press releases meet guidelines for publication on wire services and important sites and periodicals," Ernst says. "Your press release content needs to be timely, newsworthy, and written in AP Style to be effective, which is why it is important to find a press release writer with a journalism background who knows how to meet all these expectations.
"Elance is a great place to look for a qualified, talented press release writer who also has experience as a journalist. Do not hire copywriters, advertising writers, marketing material writers or any other kind of writers to write your press releases. They are not journalists, and are unfamiliar with AP Style news writing and other guidelines required to produce effective press releases."
Hire professionals who can deliver optimum link-building strategies to achieve heightened search engine ranking, enhance visibility, and increase traffic.
For more information on developing a successful business blog, visit the GotRichBlogging.com website or Email info(at)GetRichBlogging(dot)com.
About Marble Media LLC:
Marble Media LLC is a creator of high-quality, content-rich blog sites that provide expansive coverage of relevant information to readers who make up a wide range of demographics. The Marble Media LLC team of expert writers covers a wide range of specialties including travel, food, health, fitness, social media, marriage, parenting, technology, weight loss, fashion and much more.
For more information on Marble Media LLC's offerings and advertising opportunities, visit the MarbleMediaLLC.com website, or Email sales(at)marblemedia(dot)com.
###