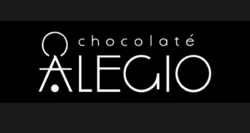 Close your eyes and picture the tropical islands where the Corallos grow their beans
San Francisco, CA (PRWEB) September 19, 2012
The most amazing chocolate in the world has an Italian name and an exotic address: Claudio Corallo, a Florentine '71 class, located in the smallest of the African states: the tiny island of Principe in the Gulf of Guinea. A live Indiana Jones, Claudio Corallo, with his family adventure "business," has finally made it to U.S. and specifically to the Bay Area. Alegio Chocolaté, the Bay Area's gourmet chocolate boutique, is now in an exclusive partnership with Claudio Corallo.
Nothing can beat the satisfaction and enjoyment that comes with the tasting of Alegio's own unified utopia and the magic of Claudio Corallo's real and original chocolate. The Italian-born maverick, but brilliant agronomist, believes he's developed the best chocolate in the world and perhaps he's right. He lives on this tiny island of Sao Tome e Principe, west of Africa, and ships his single-estate grown and organic-made chocolate directly and exclusively to this charming Bay Area chocolate store.
Alegio, nestled in the Epicurious Garden along Shattuck Avenue, immediately endears itself to the customer with its homey, comfortable ambience and artful displays of chocolate. It is now known for its consistency in producing the most authentic and hard to find chocolate of high quality. Here, the single-origin bars are pure: no preservatives, no vanilla and no lecithin.
The Chocolate Tasting Tour for Two at Alegio Chocolaté
Chocoholics and chocolate lovers can now unite and have an adventure they will remember when visiting the Bay Area's Alegio Chocolaté for its new and exclusive Chocolate Tasting Tour for Two. For only $30, couples or friends can take a chocolate tour adventure and experience the frontier of the finest-made gourmet chocolate revolution.
"For the entire 45-minutes, we're transported to Claudio's Terreiro Velho plantation in Africa, then we leaned back, closed our eyes and allowed ourselves to be overwhelmed by the strong, aromatic taste of his perfect cocoa bean!" Panos Panagos of Alegio Chocolaté said.
The first Claudio Corallo chocolate, the 75 percent tablet, is the perfect starting point for those new to the "true chocolate" experience. Take a small bite and savor it slowly or miss out on half the fun. Gone is the sugar-vanilla rush that is expected with mainstream chocolate, but there's something more there.
"Close your eyes and picture the tropical islands where the Corallos grow their beans. Does it seem like you're starting to smell the tropical flora? There's a taste of that floral freshness in the tablet, as well as a rich nutty flavor and at the very end, a touch of a juicy cherry finish. Well, we are just here and say to the world: Go smell, feel and savor the difference!" Panagos said.
For more information about Chocolate Tasting Tour for Two or any of Alegio Chocolaté's products or services, call 510-926-4056 or 510-548-2466, view the chocolate shop on the Web at http://www.alegio.com, or visit 1511 Shattuck Ave. in Berkeley.
About Alegio Chocolaté
Alegio Chocolaté is a shop located on Shattuck Avenue in Berkeley that specializes in gourmet chocolate from two of the most respected experts in chocolate making--Claudio Corallo and Enric Rovira. In addition to gourmet chocolate, Alegio also offers chocolate tours.