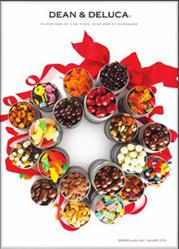 Fancy chocolates, international foods and traditional bakery goods please both gourmets and gourmands any time of the year - Leslie Linevsky, Catalogs.com co-founder
Fort Lauderdale, Florida (PRWEB) December 10, 2012
Catalogs.com continues to bolster its Gourmet Gifts & Food category with the addition of five major brands in the online food arena. Gourmet food and gift retailers are consistently high performers in the online marketplace; retail sales of specialty foods grew 9.2 percent in 2011 (Natl Assoc for the Specialty Food Trade), and performance across that category at Catalogs.com supports industry growth statistics.
Shoppers familiar with the elegant storefronts and iconic packaging of Dean & DeLuca can shop the brand's vast selection of exclusive bakery items, meats and cheeses, condiments, and signature prepared dishes with ease by catalog or at their online store.
Shopping for foodies and the office crowd is as easy as selecting the right theme and size of gift basket, with options available at Di Bruno Bros., like the "Abbondanza Gift Box" or "Cheesebox Grandioso". Another e-retailer new with Catalogs.com, and fulfilling Chicago's time-honored tradition of providing the world's best meats, Chicago Steak Company delivers aged, all natural, prime, and Kobe-style beef – as well as poultry, fish, fancy cheesecakes and desserts- to round out a spectacular holiday menu.
Cookies, cakes, brownies and traditional desserts are annual top-sellers at Catalogs.com during the holidays, because they are easy to order online for delivery and feature options to suit every palate. Mrs. Fields famous cookies and popular holiday packaging, and Fairytale Brownies dessert bars, brownies and truffles both present shoppers with scrumptious gift ideas that are simple to ship and promise to delight.
"Gourmet gift baskets and unique foods are often a 'first stop' when ordering presents for holiday delivery," says Leslie Linevsky, co-founder of Catalogs.com. "Food gifts are easy to select, travel well, and add instant elegance to any holiday table, not to mention the fact that they're delicious! Whether you're hosting an event or attending a special holiday gathering, you can never go wrong showing up with a beautifully wrapped gift basket."
"These new fourth quarter listings make the gourmet gift selection at Catalogs.com even more robust," Linevsky adds. "Food and gift catalogs will drive traffic throughout the year. All natural foods, ethnic grocery products and specialty meats are always top online performers."
The gourmet gifts and food category at Catalogs.com features more than 60 print catalogs, e-catalogs and online stores.
About Catalogs.com
Since 1996, shoppers have universally recognized Catalogs.com as a trusted premier shopping service, attracting more than 1,000,000 unique visitors each month. The comprehensive Catalogs.com website, newly launched Catalogs.com for iPad and Catalogs.com online catalogs feature over 740 major and specialty retailers and provide shopping access via web, iPad and mobile phone platforms.