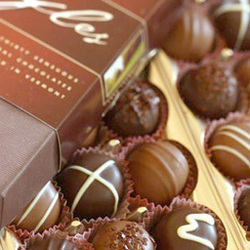 I'm pleased for both the Timberline development and design staff as well as for Lake Champlain Chocolates
Middlebury, VT (PRWEB) October 21, 2007
Timberline Interactive is pleased to announce that its long-time e-commerce client Lake Champlain Chocolates received a 2007 WebAward from the Web Marketing Association. The site was developed by Timberline Interactive and received an award for Outstanding Achievement in Website Development.
"I'm pleased for both the Timberline development and design staff as well as for Lake Champlain Chocolates," notes Timberline Interactive president Bud Reed. "We've worked with the folks at Lake Champlain Chocolates for several years now and I think that it has been a nice joint effort that has led us to the production of this award-winning site."
The Web Marketing Association was founded in 1997 to help set a high standard for Internet marketing and development of the best Web sites on the World Wide Web. The WebAwards competition, produced by the Web Marketing Association, is in its eleventh year and represents quality Internet marketing and development.
Timberline Interactive software developers Debbie Brisson and Tim Dartt and graphic designer Cinny Lawrence were all recognized by the award. The Lake Champlain Chocolates ecommerce team is anchored by Chris Middings and Greg Tickle.
"We're proud to have our site recognized by the Web Marketing Association," said Chris Middings, who is responsible for Marketing & Communications at Lake Champlain Chocolates. "Timberline's design captures the gourmet image of our brand and helps ease customer gift-giving with e-commerce features like address books and an arrival-date calendar."
Headquartered in Burlington, Vermont, Lake Champlain Chocolates has been making fresh, all-natural gourmet chocolates and chocolate gifts for almost 25 years. The company's hand-made specialties include their famous Five Star gourmet chocolate bars, milk and dark chocolate truffles, gourmet hot chocolate, bulk wedding chocolates and their popular Chocolate of the Month Club.
Timberline Interactive is New England's leading Internet marketing and web development company specializing in comprehensive and intelligent Internet solutions for direct marketing companies and catalogers. Among others, some of Timberline's clients include Lake Champlain Chocolates, Gorton's Fresh Seafood, Garrett Wade, Bennington Potters, A Greater Gift, American Meadows, King Arthur Flour/Baker's Catalog and Beau Ties Ltd. of Vermont.
# # #