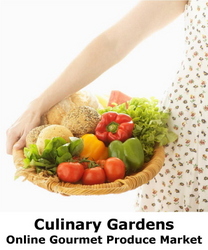 Culinary Gardens truly believes the best gourmet meals are produced using the freshest ingredients
San Diego, CA (PRWEB) October 31, 2007
Culinary Gardens launches a new home delivery service for gourmet produce that will change gourmet cooking forever. The new service will bring the highest-quality, gourmet produce directly into the kitchen of the home chef. The home gourmet can now enjoy the same selection that was once reserved only for top chefs. Whether you are a healthy eater, just love a delicious gourmet meal or you cannot find the special produce you need, check out Culinary Gardens to see how easy it is to get garden fresh, gourmet produce delivered directly to your door.
Home chefs can shop online at culinarygardens.com; once their order is placed the selected items will be delivered directly to them in an insulated cold pack via Federal Express. Home delivery customers will receive their gourmet produce within one to two days of picking from the farm; it will be delivered garden fresh, vibrant in color, with intense flavor, just as it was meant to be.
The Culinary Gardens online gourmet produce market is updated daily with the best gourmet produce available from farms and processors spread across California and the West Coast. There are hundreds of garden fresh items that are packaged and priced in retail quantities for the home gourmet chef. For ease of shopping, the market is divided into multiple categories: gourmet vegetables, fresh herbs, baby vegetables, micro greens and sprouts, gourmet fruit, fresh peppers, edible flowers and leaves, and other gourmet goods. Incorporating photos of nearly every item, the market is visually appealing; giving the chef a real look at what is fresh, available and what the market prices are.
"Culinary Gardens truly believes the best gourmet meals are produced using the freshest ingredients," states Bill Hope, General Manager and Shareholder. "Our goal with home delivery is to use our 20 years of experience in commercial gourmet produce to bring the same high-quality selection of garden fresh, gourmet produce directly into the home kitchen. We want our customers to be able to focus more of their time on gourmet cooking for their family and friends using the same ingredients that were once only reserved for the commercial chef."
About Culinary Gardens:
Culinary Gardens is the leading supplier of garden fresh, gourmet produce to top restaurants and hotels across the United States. Our mission is to provide our customers with the freshest, highest-quality gourmet produce for their gourmet cooking. We ship out of three facilities; two in San Diego and one in Los Angeles, both are within minutes of the local farmers markets. These facilities receive daily delivery of gourmet produce from farms, which are spread out across Northern and Southern California. We also work with processors for specialty gourmet items such as peeled and shaped produce, peeled artichokes and the wild mushroom market in Portland, Oregon.
At Culinary Gardens we truly believe the best gourmet dishes come from the freshest produce - that is why we strive to deliver our produce from the Garden to Gourmet in Just one Day.
For more information please contact:
Ronald Brookshire
Gourmet Galleries LLC
dba Culinary Gardens
Direct: (619) 279-4258
Fax: (877) 424-9329
Sales: (800) 392-7272
Web: http://www.culinarygardens.com
###