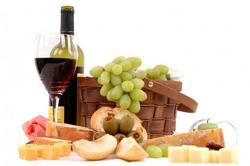 The Bed & Breakfast Guild has collaborated with the finest boutique wineries and restaurants in Sedona to create an exceptional four-day gourmet getaway like none other
Sedona, AZ (Vocus) September 1, 2010
Perfect Pairings is the perfect confluence of great accommodations, great wine, great food and a great destination all adding up to a great time. "The Bed & Breakfast Guild has collaborated with the finest boutique wineries and restaurants in Sedona to create an exceptional four-day gourmet getaway like none other", said Mark Charlesworth of the Guild. The Perfect Pairings Gourmet Getaway is designed for those who enjoy the finer things in life. Each Perfect Pairings Getaway is limited to six couples to ensure a personalized and exclusive experience. Each getaway week will be hosted by a different restaurant whose distinctive style will be mirrored throughout the journey to ensure a new experience on every Perfect Pairings Getaway.
The Perfect Pairings Getaway features a selection of seventeen inns from which to choose. Each inn offers a unique experience. Some are ensconced in greenness along Oak Creek and others are high atop a red rock mesa with views forever. Some inns are in the middle of the Gallery District and others are miles down a country road. Guests have seventeen excellent changes to make the right choice.
Day two of the Perfect Pairings Getaway, which starts with a delicious breakfast, highlights four local wineries in Verde Valley Wine Country. Guests will taste skillfully crafted wines including Syrah, Petite Syrah, Viognier, Rousanne, Zinfandel, Merlot, Chardonnay, and proprietary blends. Following the tours a gourmet picnic will be served with a glass of local wine in a beautiful setting at the winery.
Day three starts with another great breakfast and then time to explore Sedona. Whether you choose to take a jeep tour, go hiking, visit the galleries, visit ancient ruins or just relax at the Inn, the innkeeper will be glad to assist with all the arrangements. This evening features the gourmet cooking class where a notable local chef will create a dinner menu and then guide all hands through the preparation of the gourmet feast. The superb kitchen, dining and living area of the cooking school overlooks Oak Creek, providing the ideal canvas to create a culinary masterpiece. Guests may get as involved as they like, though it will be hard to resist the kitchen filled with Viking Professional appliances and the expert though genial instruction of the chef. There will be wine!
Day four allows time for shopping, a spa service, a trolley tour or maybe a hike into a hidden canyon. There are so many things to do and see. But be sure to get back to the B & B in time to be whisked off in luxury transportation to the Chef's Table at a selected local restaurant. Plan on a leisurely evening tasting great food paired with great wine, all wrapped up with great company. What a great night! The innkeepers recommend spending the last night gazing at the sparkling sky counting shooting stars and reminiscing about all of the wonderful experiences during this exceptional getaway.
Day five enjoy one last scrumptious breakfast and then head for home. Or if you choose to extend your stay for a couple of days, plan on doing the First Friday Gallery Tour, where the Sedona Trolley provides free transportation to many of the finest galleries in town. Enjoy great art, nibble hors d'oeuvres, sip wine and chat with the artists. Find a treasure that will be a lasting memory of your Perfect Pairings Gourmet Getaway Sedona. This is the way life should be...the Perfect Pairings for the perfect pair.
For more information about The Perfect Pairings Gourmet Getaway Sedona, visit http://www.PerfectPairingsSedona.com.
# # #