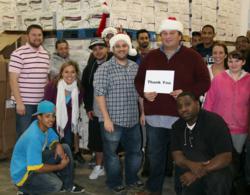 Londonderry, NH (PRWEB) December 15, 2011
On Veteran's Day, a care package was donated for every purchase over $100, and 2 care packages were donated for every blogger that reviewed GourmetGiftBaskets.com's wide selection of holiday gift baskets. The care package being donated is one of the newest products added to an already stellar selection of Christmas gift baskets and is filled with name brand snack foods everyone loves, as well as an authentic Santa hat that is sure to bring a smile to the face of the soldiers.
President & CEO Ryan Abood said of the Veteran's Day promotion, "We are extremely proud to sponsor this effort that honors our nation's heroes. The holidays are an especially important time to be thankful of the freedom that these veterans have fought to protect." On the results of the promotions to garner these donations he remarked, "We are pleased with the customer and blogger participation from this promotion and we want to continue to find new and unique ways to give back to our troops next year."
GourmetGiftBaskets.com has supported many humanitarian and disaster relief teams in appreciation of what they do for their friends, neighbors and countryman. The management and team at the company believe that their gift baskets make the perfect gift of appreciation and want to give back to the people who give willingly to their community and nation. The online retailer has been supportive of the military in the past sending 10,000 Slim Jims to OperationGratitude.com to include in their care packages sent to soldiers overseas.
###