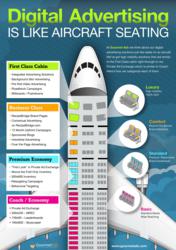 The question advertisers need to ask themselves before going in is 'Am I a First Class passenger, or a Coach passenger?'
New York, NY (PRWEB) June 14, 2012
Like passengers boarding an airplane, companies that are advertising their products online can expect "leg room" and service commensurate with what class they've chosen, says the founder of a global digital advertising network. Gourmet Ads, whose U.S. offices are in New York City, recently issued an article on the price structure guiding much of online advertising, as a resource for media buyers, particularly those who may still be finding their way around the digital arena.
"Travelers have long understood two tenets of purchasing airline tickets. First, the more you're willing to pay for your seat, the more legroom you'll get. And secondly, very seldom do two passengers, even those in adjacent seats, pay the same price," says Benjamin Christie, managing director of Gourmet Ads, which places millions of ads online each month, across more than 300 websites.
Increasingly popular among advertisers and their agencies are high visibility ad placements, Christie notes, sometimes referred to as "beyond the banner."
"Like buying airline tickets, there are bargains to be had if you know where to find them. And like frequent fliers looking to secure a seat, you'll gain better location – and thus more quality impressions – if you're willing to purchase at a level above coach."
Online ad buyers – including advertising agencies, brands direct, Demand Side Platforms (DSPs) or retargeters – can generally find four "classes of seating," says Christie. By knowing at a glance the value of one tier of ad products over another, buyers will have the data they need to better service their clients or organizations.
"In the First Class cabin there is more legroom in the form of stronger branding, greater intrusiveness and, as a result, more eyeballs," Christie explains. "Coach travelers in the web advertising arena will still arrive at their intended destination – an online presence and resulting impressions commensurate with that web page – but they may find themselves envying those who splurged for business class or the perks of First Class."
According to Christie, here's what online advertisers can expect in each "class" of service:
First Class Cabin
For those who want the best experience with no expense spared, that is, to make the strongest impression, the First Class cabin includes those advertising techniques that are proven to capture the most attention. Backgrounds Skins, running across multiple sites, not only provide advertisers a great branding experience, but encourage high levels of user engagement, especially when paired with a 100 percent share-of-voice Roadblock. This class also includes Billboards or Pushdowns, both of which are great ways to make an impression with the very first page load.
Then there's Pre-Roll Video Advertising. "Pre-Roll Advertising has taken off, and advertisers who combine a 30-second spot with a 300 x 250 ad are truly engaging site visitors," Christie says.
Business Class
Not everyone can spring for First Class, so Business Class would typically include a very comfortable assortment of advertising options to build brand awareness – all beyond the banner.
"Integration is on the minds of many media buyers and planners, so that's largely what the Business Class cabin is about," says Christie.
Examples might include sponsored blogs, where website bloggers write entries about your brand in a conversational style. Or Contextual Advertising solutions, which allow advertisers to own keywords that are most likely to be searched. Interstitials give advertisers a great way to get creative, with large real estate and 100 percent share-of-voice.
Premium Economy
Premium Economy is the sweet spot for the increasingly popular private ad exchange, offering a range of appealing options for the rank-and-file flier. These are tried-and-true advertising methods that can build awareness without breaking the ad budget. These include Above the Fold inventory to ensure eyeballs every time the page loads, 300 x 600 inventory, and long-term retargeting and behavioral targeting to get your advertising messages across in more subtle ways.
In Premium Economy, programmatic buyers might be offered first look at inventory, effectively cherry picking the visitors they want from a variety of tiers, in real time, at rates that are generally dictated by supply and demand. Aside from buying directly from the marketplace, advertisers can layer in data enabling more precise targeting and fewer wasted impressions.
Coach / Economy
Like basic seating on an airline, Coach Class will get you to your desired destination – an online ad presence – with few perks. Nonetheless, Coach buyers can generally choose from the entire gamut of display ad sizes: 300 x 250, 160 x 600, and 728 x 90. Notes Christie: "This option is for the 'leisure traveler' who wants to gain a foothold online but has a limited budget or isn't yet acclimated to the private ad exchange process."
"Because programmatic media buying – particularly through the private exchange – may be new to some, it's helpful to know where different forms of advertising fit in the whole display advertising ecosystem," says Christie. "Inventory may not be quite as limited as the number of seats on an airplane, but the basics of supply and demand – and the cost variances as supply of the most desirable real estate dwindles – still apply. The question advertisers need to ask themselves before going in is 'Am I a First Class passenger, or a Coach passenger?'"
About Gourmet Ads
Gourmet Ads (http://www.gourmetads.com) is a global food marketing network, focusing on branding campaigns for reaching the grocery buyer online. With operations in the U.S.A., U.K., Canada, Australia and New Zealand, Gourmet Ads consists of over 325 cooking websites where consumers are spending time online researching recipes, including its own recipe search engine RecipeBridge.com. Gourmet Ads develops customized advertising solutions from regular IAB units, to portal type solutions such as background skins, roadblocks and interstitials which go beyond the banner. It has represented such brands as General Mills, Starbucks, Orville Redenbacher's, Campbell's, Nestle, Swiffer and Kraft Foods, as well as retailers Walmart, Kroger, Fresh & Easy and Safeway.