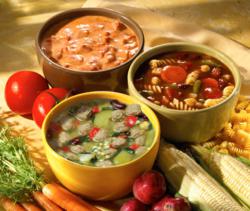 We are unique in our use of quality ingredients, proprietary cheese blends, and homemade spiced tortilla shells. We take great pride in our products and the people who make them
Omaha, NE (PRWEB) September 06, 2011
Taste Traditions of Omaha, a global food manufacturer, announced the release of their new online shopping site http://www.TasteTraditions.com/Shop. Online shoppers are invited to browse from 24 gourmet cuisines, including Mexican entrees and sides, premium pasta dishes, and a variety of gourmet soups, all made with the highest quality ingredients.
Signature Items Include:

Beef and Chicken Enchiladas
Spanish Rice
Gourmet Macaroni and Cheese
Chicken Noodle Soup
Cheesy Chicken Tortilla Soup
Cream of Broccoli with Cheese Soup
And so many more…
Over the last 35 years, Taste Traditions has serviced large distributors and foodservice operators, so this marks the first footsteps directly into the consumer market. "With this launch come exciting new opportunities," says Kelly Heavican, Taste Tradition's Internet Marketing Manager. "We have exceptional products, so it was just a matter of building an online presence so they could finally be shared with consumers directly."
Taste Traditions gourmet cuisines are packaged frozen and shipped throughout the U.S. All products with the exception of the enchiladas are boil-in-bag. This unique method of cooking offers many advantages over other methods such as limited preparation and no clean up. You can enjoy that homemade taste, without all the work.
"We strive for convenience and exceptional taste," adds Beau Hokanson, Executive Chef of Taste Traditions. He continues, "We are unique in our use of quality ingredients, proprietary cheese blends, and homemade spiced tortilla shells. We take great pride in our products and the people who make them."
The new shopping site also showcases gourmet gifts by occasion, for those who want to recognize a special event such as a new baby or a birthday. For friends or family that are feeling ill, you can send our Get Well Wishes package which features heart-warming chicken noodle soup, vegetable beef soup, gourmet macaroni and cheese, plus chicken with wild rice soup. Each gourmet gift package contains 4 or more items to make up the perfect meal. Great tasting food that requires no preparation and no clean up, its food for thought for someone you're thinking about.
If you are looking to serve larger crowds, you can purchase bundled packages that offer extra savings. With football season right around the corner, users can select from crowd favorites such as hearty chili, beef and chicken enchiladas, and beef taco meat, allowing guests to make their Tex-Mex favorites. Heavican adds, "Whether you're looking for an easy and convenient dinner option, or you're entertaining a crowd for game day, Taste Traditions has a variety of gourmet cuisines to satisfy any appetite."
ABOUT TASTE TRADITIONS
Taste Traditions of Omaha is a privately-owned global food manufacturer headquartered in Omaha, Nebraska. For more than 35 years, the company has manufactured premium, restaurant-quality frozen foods. Taste Traditions' customers include broadline distributors, convenience stores, grocery stores, delis and large institutions including the U.S. Department of Defense. For more information on Taste Traditions, visit TasteTraditions.com.
###