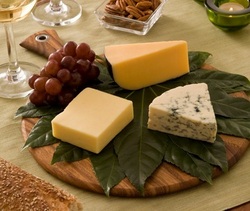 Hoboken, NJ (PRWEB) April 20, 2009
Whether Mom is a gourmand or a novice food enthusiast, finding a distinctive Mother's Day gift can be challenging. The Cheese Ambassador® offers simple solutions to celebrate her epicurean curiosity. Their gourmet cheese course collections-- American Artisanal and Mediterranean --combine three exquisite cheeses, along with a comprehensive guide including tasting notes, serving tips, and pairing suggestions.
The Cheese Ambassador® streamlines the process of shopping for the ideal gourmet gift by providing pre-selected arrangements of noteworthy cheeses from around the world. The American Artisanal Collection includes a wedge of Aged Gouda from Wisconsin, a Three-Year Old Amish Cheddar from Pennsylvania, and a Cave-Aged Blue from Southern Minnesota. Looking for something European? The Mediterranean Collection features Tipsy Goat cheese from Spain, Port Salut from Brittany, France, and an Italian Piave cultivated at the base of the Alps. Serving 4-6 people, and with a retail price of $35 each, The Cheese Ambassador® cheese course collections are perfect for indulging Mom with an exceptional and educational culinary experience.
More than simply telling you what cheeses to eat, The Cheese Ambassador® provides advice on how to enjoy them, from serving tips (such as allowing cheese to come to room temperature, and always using a separate knife for each kind), to savoring (always begin with the mildest cheese and proceed to the sharpest; this allows your palate to adjust to the stronger flavors). But most of all, The Cheese Ambassador® emphasizes the idea that when it comes to cheese there are no hard and fast rules: experiment with different suggested breads and crackers, dried fruits, olives, and wines until you discover your favorite combinations.
Made from only the highest quality milk, free of growth hormones and antibiotics, the cheeses selected for The Cheese Ambassador® come from some of the finest cheese makers in the world. Available through The Cheese Ambassador® official website, The Cheese Ambassador, and Amazon, The Cheese Ambassador® cheese course collections are a deliciously decadent treat for Mom that she can share with friends and family.
About The Cheese Ambassador®:
Even though her passion for gourmet cheese was undying, Sara Kahn found shopping for it to be overwhelming, time consuming and confusing. She established The Cheese Ambassador® to offer a simple way to select and serve the world's finest cheeses. By providing the perfect combination of exquisite cheese along with a comprehensive cheese course guide, enjoying gourmet cheese is now a deliciously enriching experience.
###