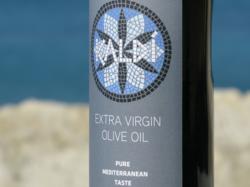 Lorton, VA (PRWEB) May 22, 2012
Kaldes Brothers Trading Company is proud to announce that five specialty food stores are now carrying Kaldí - Pure Mediterranean Tastes. Holbrook Farm, J De Francesco and Sons, Forte's Gourmet Food Market, Ridgefield Organic & Specialty market, and Double L Market all added Kaldi Extra Virgin Olive Oil to their delicious menu of gourmet items in Connecticut.
In just 19 months since launching, Kaldí Extra Virgin Olive Oil and Tomato Sauces from Greece have become available to customers online at kalditastes.com, at more than 30 high-quality retailers and restaurants nationwide, and now for the first-time in five Connecticut retailers. These fine Greek products have been highlighted in the Washington Post and will be at booth 1701 at the Summer Fancy Food Show in June.
In August 2009, the brothers started Kaldí – Pure Mediterranean Taste to offer simple yet sophisticated Greek food that they grew up eating. With oils made from rare Greek olives, and all-natural tomato sauces based on Greek recipes that combine the freshest island vegetables with aromatic herbs and spices, Kaldí brings you the pure Mediterranean tastes of Greece.