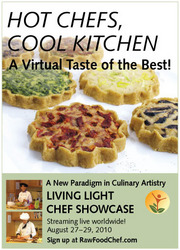 For those who are overweight or just want to achieve better health and have more energy, there is a simple, natural way to bring your body into balance without giving up the enjoyment of delicious, satisfying, nurturing gourmet recipes
Mendocino Coast, CA (Vocus) July 13, 2010
Living Light Culinary Arts Institute, a gourmet raw food culinary school for professionals and healthy home chefs in Northern California has a fresh idea. The Living Light Chef Showcase: Hot Chefs, Cool Kitchen, streaming live online August 27-29 will bring 12 of the top raw food chefs in the world together to demonstrate gourmet raw vegan recipes. The winner of the Hot Raw Chef Video Recipe Contest will be among the featured chefs. Voting for the contest ends July 21.
Cherie Soria started Living Light Culinary Arts Institute 12 years ago. She and her staff teach students how to make delicious gourmet raw vegan recipes that are mostly gluten free and low glycemic with a gourmet spin. Author of The Raw Food Diet Revolution, Soria has taught vegetarian cuisine for 40 years. Her school attracts students from around the world who come to learn techniques for creating gourmet raw vegan recipes to take back to their home states and countries.
As a featured chef at vegetarian events worldwide, Soria knows that professional culinary demos attract people who want to learn recipes that are quick and easy, with step by step instructions for creating beautifully presented gourmet dishes. "For those who are overweight or just want to achieve better health and have more energy, there is a simple, natural way to bring your body into balance without giving up the enjoyment of delicious, satisfying, nurturing gourmet recipes," says Soria. "And you don't have to spend all day in the kitchen, either."
The raw food diet is now considered one of the top 7 weight loss diets in the world. In addition to offering the recognized benefits of plant based nutrition, the regime offers simple, elegant gourmet raw recipes that address other modern day health concerns, including low glycemic, gluten free, wheat free, and sugar free diets. "Feast and lose weight" is the concept driving the raw food diet revolution. And if the idea of gaining energy and feeling younger while enjoying gourmet versions of favorite dishes is appealing, the Living Light Chef Showcase: Hot Chefs, Cool Kitchen "virtual" live streaming event is the place to learn all about it—without ever leaving home.
Living Light International has four eco-friendly businesses on the Mendocino coast of Northern California: Living Light Culinary Arts Institute, Living Light Café, Living Light Marketplace, and Living Light Inn. The Living Light Chef Showcase takes place every fourth weekend in August. http://www.RawFoodChef.com
# # #