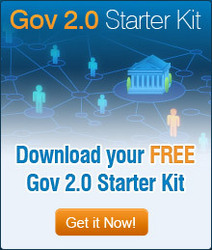 Gov 2.0 solutions are a powerful catalyst for creating networks that deliver value for government - value that can be measured through better problem solving, stronger constituent relationships, and more effective use of resources
Naples, FL (PRWEB) October 8, 2009
Neighborhood America, an award-winning provider of enterprise social software, offers government professionals a valuable resource with its newly-published Gov 2.0 Starter Kit. The Kit is being enthusiastically received in the marketplace for its ability to combine research, practical advice based on the company's decade of experience, and vision to create a one-stop learning resource appropriate for all levels of knowledge.
"Education and training will increasingly be a part of the emerging Government 2.0 movement," said Dr. Mark Drapeau, Adjunct Professor, School of Media and Public Affairs, The George Washington University, and co-author of Social Software and National Security: An Initial Net Assessment. "A repository of actionable information for people at different levels of expertise should be of enormous use to the community."
Gov 2.0 encompasses multiple disciplines and behaviors, from technology and Web 2.0 applications to scientific studies that map complex social networking theories. Neighborhood America recognizes this diversity and provides a progressive bank of resources that offer a practical look at Gov 2.0 from all levels of expertise, including:

Newbie - a basic overview of Gov 2.0 and how it can be applied to create more effective government
Rookie - offers additional learning through case studies and social media success stories (including President Obama)
Seasoned - provides an understanding of the potential (and limitations) of open source in government, along with implementation strategies for enterprise-appropriate Gov 2.0 solutions
Guru - explores more advanced thinking behind the future of Gov 2.0 through a compilation of articles that explore both the challenges and opportunities of Gov 2.0
"Gov 2.0 solutions are a powerful catalyst for creating networks that deliver value for government - value that can be measured through better problem solving, stronger constituent relationships, and more effective use of resources," said Kim Patrick Kobza, CEO of Neighborhood America. 'Our Gov 2.0 Starter Kit was developed for the agency that wants to learn how to deliver on their mission and better serve the public through Gov 2.0.'
To access Neighborhood America's free Gov 2.0 Starter Kit, visit http://www.neighborhoodamerica.com/gov-2-starter-kit.
About Neighborhood America
Neighborhood America is a leading provider of enterprise social media and mobile marketing solutions for businesses and government agencies. Neighborhood America's SaaS offerings and strategic consulting services help customers build brand loyalty and stronger constituent relationships, create channels for direct feedback, and improve financial performance. With more than a decade of experience, Neighborhood America generates total network value for many of the world's largest brands, including adidas, Crispin Porter + Bogusky, Kodak and Microsoft. Awards include the 2009 and 2008 SIIA CODiE Award for 'Best Social Networking Solution' and the global Mobile Marketing Award for 'Best Use of Marketing, Cross-Media integration.' Visit http://www.neighborhoodamerica.com.
# # #