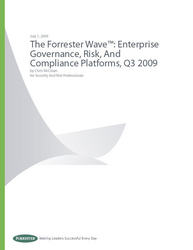 The economic downturn is taking its toll on IT spending across the board. However, the frankly appalling corporate failures witnessed over the past year will help GRC projects shoot to the top of the priority list…
Cleveland, OH (Vocus) July 2, 2009
AXENTIS today announced that it has been named as a Leader in the newly published Forrester Wave™ report on Enterprise Governance, Risk, and Compliance (GRC) Platforms. The evaluation criteria, focused on comprehensive GRC capabilities and value propositions - Current Offering, Strategy and Market Presence, cites AXENTIS among leaders who, "In addition to the technical strength of their products, these vendors are also actively shaping the GRC market through thought leadership and strategic guidance."
AXENTIS Enterprise®, the company's enterprise GRC product, was among those that received the highest scores for its policy and procedure management capabilities and client reference scores and feedback and received the highest score for value proposition for corporate compliance.
"We are pleased to be recognized as a leader and stand ready to help any organization rapidly deploy GRC," says Gary M. Fingerhut, Senior Vice President of AXENTIS. As the report cites, "AXENTIS is a perennial Leader in the GRC space" and also "continues to be one of the few GRC vendors to offer a true single-instance, multitenant software-as-a-service (SaaS) delivery model."
The report cites, "The economic downturn is taking its toll on IT spending across the board. However, the frankly appalling corporate failures witnessed over the past year will help GRC projects shoot to the top of the priority list…" and "Shareholders, regulators, rating agencies, business partners, and customers are all watching with heavy cynicism as companies strive to show that they are under control. This extreme level of scrutiny is putting the pressure on GRC professionals to better coordinate and demonstrate their efforts."
"GRC is finally coming of age where C-level executives, corporate boards, compliance managers, and other stakeholders have come to realize that their organizations can't successfully cope with burgeoning GRC-related challenges using multiple, fragmented 'point' solutions scattered among locations, departments and business units," said Gary M. Fingerhut. "As a result, we are seeing a growing adoption of unified, multi-purpose platforms that integrate the full range of GRC processes -- providing end-to-end visibility into conditions, risks, events, controls, and accountability across the enterprise."
As companies grapple with an expanding range of regulatory, operational, market, and ethical risks, AXENTIS' broad GRC capabilities and scalable technology has the ability to be far reaching to every employee, partner and customer throughout the extended enterprise and offers a provable and measurable "system of record" for the Corporate Compliance organization and one central source for the documentation and management of multiple-mandates and risk-driven compliance programs.
Read the full report The Forrester Wave™: Enterprise Governance, Risk, And Compliance Platforms, Q3 2009 at http://www.axentis.com/special/forresterwave .
About AXENTIS
AXENTIS is a global leader of governance, risk and compliance (GRC) management solutions for highly regulated industries including life sciences, healthcare, financial services, energy, utilities, manufacturing, and others. AXENTIS' risk-driven compliance approach helps organizations to effectively and consistently address internal and external risks associated with all legal, regulatory, and corporate mandates and policies with which they must comply including established federal government standards for an effective compliance program. Founded in 1999, AXENTIS streamlines the implementation of effective enterprise GRC management by making its solutions available via a software-as-a-service (SaaS) model. For more information, please visit http://www.axentis.com .
# # #