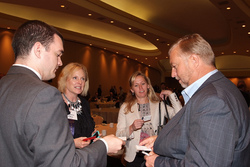 Assisting our clients to understand Cybersecurity relationships, dependencies, and policies is an essential and integral component of the ZAI-PAR Cyber Solutions partnership.
Vienna, VA (Vocus) September 16, 2010
The need to develop an overall cybersecurity strategy has not gone unnoticed by industry. CNN has reported that in his annual threat assessment, National Intelligence Director Dennis Blair recently declared that a "successful cyberattack against a major financial service provider could severely impact the national economy, while cyberattacks against physical infrastructure computer systems, such as those that control power grids or oil refineries, have the potential to disrupt services for hours to weeks." Two innovative technology firms, Par-Excellence and ZAI Solutions, have teamed up to maximize their capabilities to assist in this national endeavor in the realm of cybersecurity.
ZAI Solutions, Inc. and PAR Excellence jointly announced today that they have formed a new venture, ZAI-PAR Cyber Solutions. ZAI Solutions, Inc. has had a cybersecurity practice for the past 4 years and have been working with some of the leading security technologies in this market space. Through proven methodologies and a proven team of experts, they are looking forward to a winning collaboration of two business Consulting firms.
Mark Zelinger, president of ZAI Solutions, has teamed with PAR-Excellence founder Barbara Ellen Bridges, who chaired the annual AFCEA DC Cyber-security Symposium, 'USCYBERCOM's Role in Protecting .mil, .gov & .com'. The Symposium focused on helping new and innovative cyber solutions gain government mainstream recognition. Both Zelinger and Bridges are veterans of the government IT community and are excited about their new target alliance.
"We are excited about this new venture as we see many companies going after the Government Customer with little knowledge of the intricacies on how to maneuver around this terrain. We are looking forward to working with niche technology companies to help provide needed solutions to protect our country against terrorist attacks," explained Bridges.
At the recent AFCEA DC Chapter Cybersecurity Symposium, that Bridges Chaired, featured speakers included VADM Carl V. Mauney; Deputy Commander, USSTRATCOM, Howard Schmidt; White House Cyber-security Coordinator, Maj. Gen. Suzanne M. "Zan" Vautrinot; Director of Plans & Policy (J5), USCYBERCOM, RDML Robert E. Day; Director, Coast Guard Cyber Command, USCG and RADM Michael A. "Mike" Brown; Deputy Assistant Secretary for Cyber Security & Communication (CS&C), Department of Homeland Security.
ZAI-PAR Cyber Solutions was created to focus on cybersecurity and the newly confirmed U.S. Cyber Command, and its partners, its relationships, its dependencies, its policies, and assist innovative technology companies in their support to national cyber forces. To support the US Cyber mission ZAI-PAR Solutions will interface with the five Military Services, the Unified Commands / COCOMs, DHS, other Civilian Agencies, and Industry.
During the 2nd Annual AFCEA DC Cybersecurity Symposium conference attendees were presented with discussions of how these interrelationships will unfold and the framework as collaboration begins to emerge. The Symposium provided a platform for officials in the Military Services, OSD, Federal Civilian Agencies, the Administration, & Congress, to share their goals, needs, requirements and challenges with a large audience of professionals in the field who can help to achieve the cyber mission of protecting America. Zelinger commented, "Assisting our clients to understand Cybersecurity relationships, dependencies, and policies is an essential and integral component of the ZAI-PAR Cyber Solutions partnership."
Par Excellence (Partnerships, Access, Relationships) provides strategic and tactical business development services to small businesses in the government IT arena.
ZAI Solutions provides business development, sales, and capture services for innovative technology companies targeting government markets at the federal, state and local levels. ZAI Solutions guides technology innovators through the intricate, often intimidating government marketplace. Familiarity and relationships with government, partners and vendor channels facilitates and speeds market penetration. ZAI clients are on the forefront of technology innovation, creating the solutions on which the government increasingly depends. For more information, see the website http://www.zaisolutions.com.
# # #