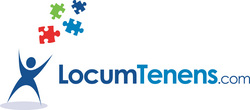 Providers often choose government locum tenens jobs because of the steady pace and more 'normal' work hours compared to private practice
Alpharetta, Ga. (Vocus) March 31, 2009
Among 1,239 respondents to a recent LocumTenens.com physician survey, only 11% had not worked at a government healthcare facility at least once. Among this minority of respondents, most (82%) said they were interested in trying government locum tenens jobs. This is good news for the physician recruiting firm which saw government sales grow 114% in 2008, according to LocumTenens.com Vice President Terrence Smith.
Among respondents with government practice experience, 71% preferred the work hours and 50% preferred the patient volume at government facilities over those in civilian facilities. "Providers often choose government locum tenens jobs because of the steady pace and more 'normal' work hours compared to private practice," Smith said. "They generally find that government facilities offer them better work-life balance."
Smith also noted that whereas credentialing at civilian healthcare facilities normally requires a valid medical license for the state in which the facility is located, government facilities generally accept a valid, unrestricted license from any state.
While about two-thirds of physician survey respondents in this group (66%) indicated the pay was better in non-government medical facilities, approximately 16% found the opposite to be true and 15% indicated pay rates were comparable.
Respondents' open-ended comments about government locum tenens jobs included these:

"There are pros and cons to government medical facilities vs. civilian. Although the pay is less, government facilities are not subject to the hassle/headache of insurance denials, justifications or prior authorizations."
"Correctional medicine pays more and has less, yes less, aggravation than private practice."
"Everything equal, VA beats private practice locum every time."
Although almost half of physician survey respondents with government practice experience (47%) preferred a civilian clinical setting, 24% preferred a government clinical setting and 28% saw no difference between the two.
LocumTenens.com booking trends indicate the average locum tenens assignment at a government healthcare facility is three months long. Physicians responding to the recent survey indicated their top three reasons for accepting longer government locum tenens jobs were compensation, flexible work hours, and the opportunity to rotate on and off at most government facilities.
Among physician survey respondents with government practice experience, 52% worked as a staff employee, 30% worked as a locum tenens or contract employee, and 18% had worked in both capacities. Sixty-two percent of respondents had practiced medicine for more than 10 years, while about a quarter of respondents had practiced for five years or less.
About LocumTenens.com
Founded in 1995, LocumTenens.com is a full-service physician recruiting firm specializing in anesthesiology jobs, psychiatry jobs, radiology jobs, surgery jobs and CRNA jobs with U.S. hospitals, medical groups and community health centers. LocumTenens.com is part of the Jackson Healthcare family of companies. To learn more, visit http://www.locumtenens.com/welcome.
# # #