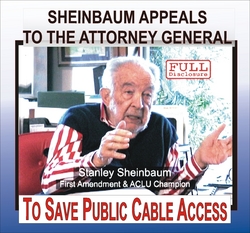 public access is important to keep an arm on government.
Los Angeles, CA (PRWEB) December 23, 2008
Political powerhouse Stanley Sheinbaum, former Regent of the University of California (appointed by Gov. Gerry Brown) and former President of the Los Angeles Police Commission, has jumped into the fight to save public access cable channels and studios in Los Angeles. Appearing in a Full Disclosure Network® Video News Blog (ten minutes) Mr. Sheinbaum describes why he wrote a letter appealing to Attorney General Edmund G. Brown, Jr. to intervene. Watch the Video here: http://fulldisclosure.net/Blogs/64.php
In this exclusive interview with the Full Disclosure host Leslie Dutton, Sheinbaum talks about the importance of having public access cable operations in Los Angeles. Sheinbaum is a long time benefactor of the ACLU Foundation and close associate of Ramona Ripston of the ACLU of Southern California, Sheinbaum says that "public access is important to keep an arm on government."
In an urgent letter to California Attorney General Edmund G. Brown, Jr., Mr. Sheinbaum appeals to him to seek emergency injunctive relief to stop Time Warner Cable from shutting down the 14 public access studios and channels in Los Angeles on December 31, 2008, until such time as the City has made arrangements to replace the facilities (see attached files).
Letters from other organizations who have appealed to the Attorney General along with Stanley Sheinbaum are:

David R. Hernandez, Los Angeles Public Access Coalition (see attached file)
THE CAUCUS of Producers, Directors, Writers & New Media (see attached file)
Full Disclosure Network® (to send Automated an letter to the AG go to this URL: http://www.fulldisclosure.net/forms/abc_fdn.php
BREAKING NEWS: On December 17, 2008, Los Angeles City Controller Laura Chick released the Audit Report on the two City-run government cable channels. According to the Audit, "The City collects $25 million in Cable Franchise Fees annually, earmarking $3 million+ for City Government Channel 35, and $555,000 for an educational channel LA36, but no funding for public channels. Read the Audit Report here: http://www.lacity.org/ctr/audits/FinalRptPEG_Access121708.pdf
According to the Full Disclosure Network, this is a fact that is certain to cause concern among the thousands of displaced independent producers who will no longer be featured on Time Warner Cable public channels once the City seizes control of the channels January 1, 2009.
###