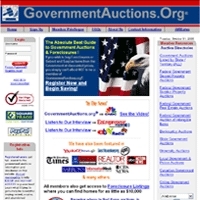 Our Affiliate Program has continuously generated exceptionally strong interest among website publishers, both large and small, and so we are striving to provide our affiliate partners with dedicated, world-class resources
Great Neck, NY (PRWEB) February 9, 2009
Cyweb Holdings Inc. announced today the appointment of Alex Droznik as Affiliate Program and Business Development Manager for its GovernmentAuctions.org® website.
Until recently, Mr. Droznik held a position with GE Capital, where he was responsible for marketing and sales of structured financial products for the healthcare industry.
At GovernmentAuctions.org, Mr. Droznik's function will be the management of the company's affiliate program, which allows web publishers and providers to earn income by linking and referring subscribers to the GovernmentAuctions.org website. Mr. Droznik will also be in charge of building and maintaining strategic partnerships. GovernmentAuctions.org® is the Internet's leading portal for bargain hunters and others who seek deals on real estate foreclosures and seized and surplus inventory sold by federal, state and local governments.
"Our Affiliate Program has continuously generated exceptionally strong interest among website publishers, both large and small, and so we are striving to provide our affiliate partners with dedicated, world-class resources," says VP Michael Pesochinsky. "Bringing someone of Alex's caliber and acumen on board insures that our Affiliate Program will have top-notch affiliate-centered management, and shows our current and future partners how seriously we take their success."
"The competition among companies for top performing affiliates has recently reached unprecedented levels. By providing timely payments with flexible options, a plethora of creatives, dedicated program management with unparalleled support, and a simple but very profitable two-tier commission structure, we let our existing and potential affiliates know they can use GovernmentAuctions.org® to generate substantial profits for themselves," says Mr. Droznik.
Having worked for major financial institutions like GE Capital and BNP Paribas, Mr. Droznik brings with him substantial marketing and sales experience in the financial services industry. In the year prior to joining GovernmentAuctions.org, Mr. Droznik was responsible for arranging more than a dozen deals, which brought in approximately $14 million in income. The team at GovernmentAuctions.org is glad to have him on board, and fully intends to utilize Droznik's expertise in dealmaking and income generation to its advantage.
Mr. Droznik holds a degree in Finance from the New York University's Stern School of Business, and has recently passed the Google Advertising Professional Exam. Having been involved in the financial industry, he is also certified by the Financial Industry Regulatory Authority (FINRA) for several major broker-dealer licenses.
About GovernmentAuctions.org® (http://www.governmentauctions.org)
GovernmentAuctions.org is a membership-based web site for bargain hunters that helps its users find and participate in government auctions of seized and surplus property. It also provides its members with access to its nationwide database of real estate foreclosure listings across the United States.
About Cyweb Holdings Inc. (http://www.cywebholdings.com)
Cyweb Holdings, Inc. is a company that, through its divisions and holdings, provides high quality web-based information services to the public and other businesses. The company consists of personnel and management who, combined, have extensive experience in business, government, law, software and technology, and who have committed themselves to use their backgrounds and knowledge to create, sustain, and invest in superior information products in various markets.
Interview Contact: I. Aronovich
Tel: (516) 467-4518
Fax: (516) 706-1072
Company: Cyweb Holdings Inc.
Division: GovernmentAuctions.org®
Business Address: 70 Middle Neck Road, Suite 5, Great Neck, NY 11021
###