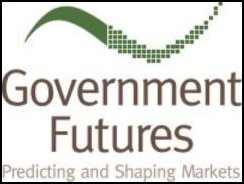 Information sharing and information transparency are already having an impact on how the government performs its missions
Washington D.C. (PRWEB) March 9, 2007
Government Futures, a Web 2.0 analysis and consulting firm that taps the collective intelligence of government and industry participants to solve tough problems in the federal technology and services sector, today announced the start of their next futures research issue campaign: "2012 - How will the government perform its critical missions?" Government Futures is initially shining its spotlight on two government missions, public health and corporate financial regulation, and on two major change drivers, information sharing and information transparency.
The company is using its complete online tool-kit to engage the collective intelligence of the government-industry community around this issue. This includes a survey, a discussion forum, blogs, Government Futures' Bet the Future prediction market, and interviews.
"Information sharing and information transparency are already having an impact on how the government performs its missions," says Margaret Anderson, Co-Creator of Government Futures. "For example, the Patent and Trademark Office has a pilot project to post patent applications on the Web and invite comments. That is an amazing mind-shift, to bring collective intelligence to the patent examination process. In five years, we predict initiatives like this will significantly transform how government operates."
"Government Futures' purpose, and the goal of this latest futures research, is to help government and the organizations that support it start thinking together about these exciting changes," said Bruce McConnell, president of Government Futures. "Together we can jointly build a governance environment that generates success."
Please visit http://www.governmentfutures.com?campaign=PRWebMissions3.07.07 to participate in the survey.
About Government Futures, LLC
Government Futures, LLC is a Web 2.0 analysis and consulting firm that taps collective intelligence to help decision makers in the government-industry community understand and shape the future of the federal marketplace, and improve their position in it. Founded by community veterans Bruce McConnell and Margaret Anderson, and aided by a council of seasoned advisers, the company enables the community to collaborate and develop its own collective intelligence. Government Futures advises companies and other organizations in the application of these results. For more information, or to participate in the community, please visit http://www.governmentfutures.com?campaign=PRWebMissions3.07.07.
Contacts:
Margaret Anderson, Co-Founder
Government Futures, LLC
1301 K St. NW - Suite 450 West
Washington, DC 20005
anderson@governmentfutures.com
703-573-0134
http://www.governmentfutures.com/?campaign=PRWebMissions3.07.07
Media Contact:
Julie Keyser-Squires, APR
Softscribe Inc.
julie@softscribeinc.com
404-256-5512
###