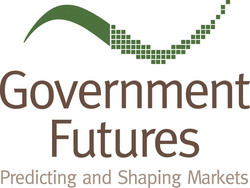 Can Industry and Government Deliver?
Las Vegas, NV (PRWEB) January 9, 2008
Government Futures, a Web 2.0 analysis and consulting firm that taps the collective intelligence of government and industry to solve tough problems in the federal technology and services sector, today released the first results of its "Keeping It Real" research, Perspectives on Promises. The research analyzes, for realism and innovation, eight Presidential front-runners' proposals on five issues critical to America's continued success and prosperity. The research was released at the Consumer Electronics Show Government Conference in Las Vegas.
The "Keeping It Real" research looked at five critical issues: immigration, energy/environment, health care, veterans care, and government reform. The statements and plans of eight front runners--Clinton, Edwards, Giuliani, Huckabee, McCain, Obama, Romney, Thompson--were evaluated for innovation and realism.
"For the most part, the candidates' plans for addressing these critical issues fall short in terms of realism. There is little evidence that they understand what it will take to solve these problems in a time frame that's acceptable to the American people," said Bruce McConnell, former White House Information Technology chief and president of Government Futures. "Industry and government leaders back in Washington must find ways to change the level of discussion, or we will make insufficient progress in the coming years."
In the immigration area, for example, Government Futures surveys and research show that the candidates' approaches to establishing a nationwide verification system that enables employers to easily check the legal status of job applicants will take five or more years to complete. "In effect, they are saying the rule of law will not apply to immigrant job seekers until 2014 - and that's a long way from what Americans are looking for," McConnell said.
"Provocative research is a cornerstone of this Conference and Government Futures has set the stage for lively discussions here in Las Vegas and back in Washington as well," said Donald W. Upson, President, CES Government.
The entire report can be viewed at http://governmentfutures.com/documents/Perspectives_on_Promises_9_Jan_07.pdf?campaign=PRWebKeepItRealJan92008
About Government Futures
Government Futures is a Web 2.0 analysis and consulting firm that taps collective intelligence to help decision makers in the government-industry community understand and shape the future of the federal marketplace, and improve their position in it. Founded by community veterans Bruce McConnell and Margaret Anderson, and aided by a council of seasoned advisers, the company enables the community to collaborate and develop its own collective intelligence. Government Futures advises companies and other organizations in the application of these results. For more information, or to participate in the community, please visit http://www.governmentfutures.com?campaign=PRWebKeepItRealJan92008.
About CES Government
The world's largest and most exclusive technology showcase - International CES -stands as the high-energy backdrop and partner for the third annual CES Government conference - a limited attendance forum of senior technology and management executives from government and industry. The conference focus this year is the November '08 elections, politics and their impact on government technology and management agendas. Focused discussions, substantive plenary sessions and unique networking opportunities provide conference participants' distinctive opportunities to match the critical intersect of government management and technology applications with significant government challenges including immigration, healthcare, social services, homeland security and law enforcement, and social services.
Contacts:
Margaret Anderson, Co-Founder
Government Futures, LLC
1301 K St. NW - Suite 450 West
Washington, DC 20005
anderson@governmentfutures.com
571-217-7686
http://www.governmentfutures.com?campaign=PRWebKeepItRealJan92008
Caroline Boyd
CES Government 2008
Mobile 703-475-2238
Office 804-359-1631
Media Contact:
Julie Keyser-Squires, APR
Softscribe Inc.
404-256-5512
http://www.softscribeinc.com
###