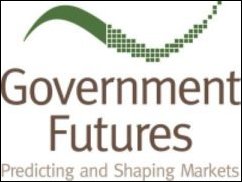 We were surprised at the rush of enthusiasm from both government and industry respondents, who agreed strongly that quality, cost and innovation would improve if key commercial best practices were widely adopted by government
Washington D.C. (PRWEB) December 20, 2006
Government Futures, a pioneering research and consulting firm that analyzes future trends in the government technology and services sector, today reported that swifter adoption of commercially accepted procurement practices is critical to the government's ability to meet its future mission needs.
This, and a concern about whether some of the practices could realistically be implemented, surfaced in Government Futures' third See the Future report this quarter: "Procurement at the Crossroads: What Should You Do?"
"We were surprised at the rush of enthusiasm from both government and industry respondents, who agreed strongly that quality, cost and innovation would improve if key commercial best practices were widely adopted by government," said Bruce McConnell, president of Government Futures. McConnell said interview and survey results showed that practices such as strategic, well-managed vendor relationships are highly desirable, but that federal procurement is at a crossroads of change and faces a choice between progress or stagnation.
At stake is the ability of agencies to cost-effectively support their missions and $400B in government expenditures.
"The evolving procurement situation creates significant market opportunities in three areas for commercial firms: strategic sourcing, the Office of Management and Budget's lines of business, and providing tools and process assistance," said Randall Cole, a seasoned government procurement expert and leader of Government Futures' Federal Acquisition Practice.
Government Futures' two earlier See the Future reports, entitled "Government 2.0: Are you Ready?" and "The 110th Congress: Not for the Faint of Heart" were released in October and November this year, respectively. "This is our first report that targets a very specific group - people involved in government procurement. Survey respondents were 30% fewer than normal but the quality of comments and specific insights dramatically increased," said Margaret Anderson, Government Future's co-founder.
A free eight-minute video on Government Futures' website shares a synopsis of the findings in "Procurement at the Crossroads: What Should You Do?" A more in-depth 90-minute briefing and discussion with the Government Futures team, locally or via webinar, is available for a packaged price. It includes an analysis of three kinds of market opportunities, a discussion of emerging risks, and an influence map of the oversight environment.
"We are committed to sharing our results with the broader community as we continue to experiment with what we call a beta business model," said Ms. Anderson. With the help of our council of advisers, Government Futures is testing blogs, wikis, predictive markets, surveys, and other tools of collective intelligence as a way to build a community of insight that generates unexpected ideas and perspectives by thinking "from the future."
About Government Futures, LLC
Government Futures, LLC is a pioneering research and consulting company that helps decision makers in the government-industry community understand and shape the federal business environment and their position in it three to five years forward. Founded by community veterans Bruce McConnell and Margaret Anderson, and aided by a council of seasoned advisers, the company enables the community to collaborate and develop its own collective intelligence. Government Futures advises companies and other organizations that desire to apply the techniques and results of collective intelligence to shape the future. For more information, or to participate in surveys and the community, please visit http://www.governmentfutures.com/?campaign=PRWebAcquisitions12.20.06.
Contact:
Margaret Anderson
Co-Founder
Government Futures, LLC
1301 K St. NW - Suite 450 West
Washington, DC 20005
703-573-0134
http://www.governmentfutures.com/?campaign=PRWebAcquisitions12.20.06
Media Contact:
Julie Keyser-Squires, APR
Softscribe Inc.
404-256-5512
###