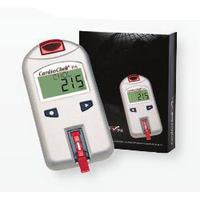 The CardioChek analyzer benefits the patient, clinic, and healthcare provider by saving both time and money
Issaquah, WA (PRWEB) November 21, 2011
According to QuickMedical GSA sales, a growing number of healthcare professionals are saving patient time and money by utilizing in office blood testing kits and analyzers.
Testing results are almost immediate which enables the healthcare provider to discuss results with the patient at the time of the test versus waiting for tests to come back from a laboratory and the patient needing to make another appointment.
The CardioChek Professional Testing Device, a professional hand held analyzer (with optional printer) is used to measure whole blood indicators related to heart disease, diabetes and other chronic conditions. The analyzer can store up to 30 results in memory and can be programmed in up to six languages.
Karl Durham, Assistant Director of Government Sales at QuickMedical GS said," New technology gives a medical clinic and the healthcare professional access to a variety of testing kits and analyzers that will do some basic blood tests; including cholesterol, triglycerides, HDL, glucose and more. The CardioChek analyzer benefits the patient, clinic, and healthcare provider by saving both time and money."
About QuickMedical Government Sales:
Veteran Sales LLC dba QuickMedical GS specializes in medical devices, exam tables, X-ray equipment, medical cabinets, temporal thermometer, medical diagnostic instruments, and disposable medical products. These products are featured on three FSS (Federal Supply Schedule) contracts: V797P4995a Medical Supply; V797P3149m X-ray Supplies, and V797P-5961x Invitro and testing supplies. We are Service Disabled Veteran Owned Small Business. Call 888-345-4858 if you have any questions or would like a quote.
###