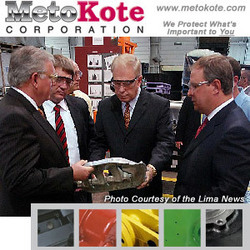 Lima, OH (PRWEB) September 8, 2009
MetoKote Corporation was honored to host Governor Ted Strickland during a recent visit to their Lima, Ohio coating complex. The visit included a short meeting with the executive staff, a tour of the facility, and then the Governor spoke to employees, local officials and media on his Education Reform Plan.
MetoKote's President & CEO, DeWayne Pinkstaff, discussed with Governor Strickland the importance of an educated workforce. "We utilize a diverse group of individuals with varying degrees to grow and strengthen our position in the marketplace. MetoKote started in a garage by one man that was unemployed at the time. Forty years later, we are standing here with 33 facilities in seven countries around the world employing over 1400 employees. If it wasn't for our people, who understand the importance of knowledge, creativity and the willingness to work hard, MetoKote would not be where we are today."
Governor Strickland spoke to the group about the educational enhancements that are planned due to the passage of his latest budget. He indicated that change is essential to prepare our children for future success in the workplace.
A few of the initiatives with the new reform would be additional training for teachers and full day kindergarten classes. Additionally, all high school seniors would be required to complete a major project, and it would be mandatory for them to take the ACT in order to graduate.
The governor also stressed that this reform will reduce the property tax burden on local taxpayers by increasing the state share of school funding to 61 percent when the reform plan is fully phased in over several years.
MetoKote Corporation, headquartered in Lima, Ohio, is the industry leader in protective coating applications including electrocoating (e-coat), powder coating and liquid paint. The company serves over 1,000 customers in 33 facilities throughout the United States and the world. MetoKote provides environmentally sound and cost-effective coating solutions to a wide variety of industries such as agriculture, appliance, automotive, computer, construction equipment, electrical, furniture, industrial equipment, recreational, and truck and bus.
###