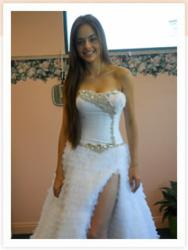 Thank you Dorie for a day I will always remember
(PRWEB) December 22, 2012
Dorie Kong, famed Bridal Designer and owner of L'Mode Bridal located in Tustin, CA was awarded the Bride's Choice Awards in 2009, 2010, and 2011 in recognition for her excellent service and expertise in bridal dress alterations and design.
Success comes from innumerable hours of hard work and a passion for the craft. Dorie Kong reached her current level of success as a bridal dress specialist and pageant gown expert through many years of rigorous training, and countless hours spent perfecting her craft. Some of her achievements include having designed the pageant gowns for the National Queen of the Miss Teen American 2003 ,Queen of the Miss Teen Southern California 1997, Queen of the Miss Pre-Teen California 2000, and Queen of the the Mrs. California/ America/ World 2000. For more information about Dorie Kong's success please click on: Gown Alterations Irvine.
Dorie Kong's story began in Malaysia at an early age. Growing up in Malaysia as a Chinese descendent, Kong was often given sumptuous fabrics as birthday gifts. She would then envision the beautiful dresses in her mind and then work through the night to bring the creation to life. Kong recalls finding her passion in creating the dress of her dreams from the fabric she was given and reports that passion is still with her today. After finishing high school, Kong enrolled in a local dressmaking institute and in a short time period became a master sample designer and producer at major network broadcasting companies in Singapore and Malaysia. Kong reminisces about the sense of accomplishment she'd feel when she saw her creations worn by top newscasters and soap opera actresses on screen. Kong then went on to open up her Dress Making Institute in Maylaysia where she taught for 10 years before coming to America in 1991. For more information, please click on: Bridal Dress Alterations Irvine.
Kong's work continues in America in Tustin at her L'Mode Bridal store where she enthusiastically greets her clients daily and helps them either find or create the dress they desire. Although Dorie Kong focuses on bridal dresses, she also offers alteration services for prom and pageant dresses. Kong ensures that only the very best work is acceptable with her company. Of all her services, Kong's passion still lies with creating dresses from scratch, an attribute she developed early in life. She continues to feed her passion through dress making orders from her clients and helping young pageant contestants with their dress design and with production of the dress itself. For her hard work and dedication, Dorie Kong has been recognized with the Bride's Choice Award in 2009, 2010, and 2011. To find out how to have the perfect fitting bridal dress click here: Wedding Dress Alterations Irvine.
L'Mode Bridal has been in business since 1992 serving the Southern California and Orange County Region for more than 20 years. L'Mode Bridal has also services brides from around the world. The experience and expertise of dress making and alteration of Dorie Kong is sure to fulfill the demand of anyone with bridal dress needs or bridal alterations Irvine. With customer satisfaction as the company's top priority, the client is certain to have a positive experience finding or creating the dress of their desires. For more information about how to get a custom made dress go to Lmodebridal.com. Or go to their yelp page at: http://www.yelp.com/biz/l-mode-bridal-tustin
Dorie Kong, wedding gown designer
(714) 730-8919
http://www.lmodebridal.com/alterations.html