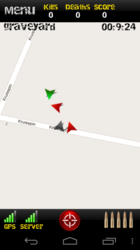 It's a unique outdoor warfare game and it's a lot like paintball, but without the paint
The Netherlands (PRWEB) May 15, 2012
Upright Media Concepts have just released their Android app called MobileWar and it's the world's first real multiplayer GPS shooting game using the mobile phone as a shooting device.
MobileWar lets players point and shoot at eachother using nothing else but their mobile phone. "It's a unique outdoor warfare game and it's a lot like paintball, but without the paint" says CEO Jacco Gruiters. Players get killscores when they hit opponent and deathscores when getting hit themselves. Bullet counting is a must as players need to actually reload their weapon to continue shooting.
The game uses both GPS and the accelerometer inside the phone. By using different international servers fast gameplay is possible in all continents especially when using 3G or 4G/LTE networks. The best accuracy is reached when using Android phones less than 1 year old, but users with older phones can play too as accuracy levels are adapted per phone.
The developers are also working on an Iphone version that should be coming out soon. Both Android and Iphone users will be able to play against eachother.
MobileWar is available from May 14th on Android Play for $ 1.99 or 1.49 EUR
Direct link for MobileWar on Google Play
About Upright Media Concepts
Upright Media Concepts (Uprightmediaconcepts.com) is a Dutch company specializing in mobile apps & creative concepts. MobileWar is its first release.