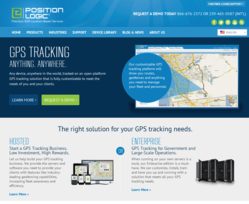 [The new site was designed on] the same principle that drives everything Position Logic does: Put people first, and the rest will follow.
Naples, Florida (PRWEB) April 20, 2012
For almost five years – practically an eternity, in Internet time – the Position Logic website has been a destination for entrepreneurs looking to launch a location-based services business, for existing tracking companies looking to migrate to a more robust LBS platform, and for large corporations looking to license their own version of GPS tracking software. Today that destination gets cleaner, more informative, and even easier to use as Position Logic announces their new website redesign.
Felix Lluberes, Position Logic's CEO, was closely involved with website design and development company ThreeTwelve Creative throughout the redesign process. "Our goal was to not only give the site a more modern look and feel, but more importantly to allow people to easily find all of the great content that we have on GPS tracking software, services and devices," said Lluberes. "It's the same principle that drives everything Position Logic does: Put people first, and the rest will follow."
And visitors interested in all that Position Logic has to offer certainly will find a lot of information on the new site, ranging from product offerings to industries served by GPS tracking to the almost 200 hardware devices that Position Logic currently has integrated into its platform. The website also contains a blog that is updated frequently with interesting technical information about the Position Logic platform, practical tips for small businesses who are either in the GPS tracking business or are thinking about entering it, platform release notes, and press releases.
For David Dewhirst of ThreeTwelve Creative, the company that designed and built the new website for Position Logic, building a useful and informative website like Position Logic's really is about putting people first. "In the past year, we have designed and built websites for everyone from small charities to larger companies like Position Logic," said Dewhirst. "But no matter what the size of your organization, your website will always succeed if two things happen. First, people need to be able to find it, of course; and once they do, it needs to provide services or information that they will find valuable and useful. Since Position Logic has built an enormously successful business on the foundation of being a valuable asset to potential and current customers, this website is really just an organic extension of who they are."
About Position Logic
Position Logic, LLC, is a leading business-to-business, location-based services provider committed to supporting businesses worldwide with integrated and applied business intelligence, precision technology, and customized services and solutions. Position Logic has offices in Naples and Orlando, Florida and the Dominican Republic as well as clients in over 40 countries spread over the continents of North America, South America, Europe, and Africa and in the Middle East region. Position Logic provides GPS tracking software and hardware solutions, service and support to several key industries, including fleet management, Automatic Vehicle Location (AVL), logistics, and security monitoring and crisis management. For more information about Position Logic, including their GPS tracking platform and location-based services and support, please contact our Sales Team by phone at 866-676-2372 (Toll-Free) or 239-465-0587 (US/International), 801.665.0587 (fax) or email at sales(at)positionlogic(dot)com. You can also visit the shiny, brand-spanking-new Position Logic website at http://www.positionlogic.com.
About ThreeTwelve Creative
ThreeTwelve Creative, LLC is a web design, development and internet marketing company based in Ft. Myers, Florida. With clients throughout south Florida, ThreeTwelve Creative brings years of design, development and marketing experience to the table in everything they do. They are also very good looking. To see what ThreeTwelve Creative can do for you, or to see a portfolio of their work, drop by ThreeTwelve Creative or email them at creative(at)threetwelvecreative(dot)com today!