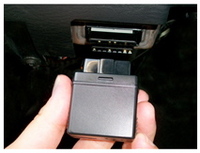 "We are so happy with our decision. The GPS service paid for itself when we used Global Tracking to recover our stolen company truck! Customer service is excellent from Sales to Training to Customer Support. Esquivel Grading & Paving, Inc.
Murrieta, CA (PRWEB) April 26, 2010
Global Tracking Communications, a Southern California-based GPS hardware and software provider brings value, innovation and simplicity for fleet owners and managers with the recent launch of the XP4000, a one step, Plug-n-Play GPS tracking unit. GTC has increased fleet efficiency, reduced operating costs and improved customer service relations for companies all across the United States and Canada.
The XP4000 is a real-time GPS tracking device, engineered with Plug-n-Play technology and connects directly to the OBDII in post - 1996 passenger vehicles. One step installation allows users to quickly begin tracking vehicle and driver performance via GTC's fully integrated web based software. TheXP4000 is designed with a compact cellular modem that includes a built in OBDII interface and GPS engine. GTC's hardware and software solutions allow fleet owners and managers to easily access valuable data and information, helping to increase vehicle and asset performance, while decreasing unnecessary overhead costs.
Vehicle tracking systems provide the ability to pinpoint your vehicles location to as close as 3 feet away while supplying rapid and updated vehicle information including maintenance, speed, location and direction. GPS tracking systems providing endless capabilities and advantages to assist in streamlining day to day operations and to take control of mobile assets. The XP4000 is equipped with mapping, reporting and alert features which provides all the necessary information needed to manage and monitor daily operations.
The experts at GTC have researched the GPS industry and scoured the globe to find a diverse selection of GPS fleet/management options that are perfect for businesses. Budget friendly pricing and purchasing options are made available to interested consumers searching for a live GPS tracking system.
# # #