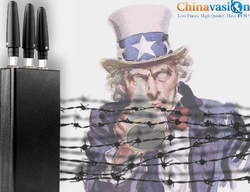 It is a decision right out of a dystopian science fiction novel
(Vocus) September 3, 2010
GPS Jammers could be the only way for the privacy-minded to protect their privacy from unwarranted GPS tracking according to portable GPS source, Chinavasion.
The California Federal Court of Appeals recently declined to hear a case placed in an effort to overturn a drug conviction. The case was based on information gained off a GPS tracker that was placed without a warrant.
The Defendant, Juan Pineda-Moreno, claimed that federal agents breached the fourth amendment by placing the GPS tracker on his Jeep without getting a warrant.
The court turned down the appeal as the devices were placed when the car was on property not clearly marked as private.
According to Rose Li, PR manager for portable GPS supplier Chinavasion, the civic rights overtones for this court case are both ominous and far-reaching.
"It is a decision right out of a dystopian science fiction novel," according to Chinavasion's Rose Li. "The implication is that if anybody has a car and they leave it anywhere in public it is OK for people to attach a GPS tracker to it."
According to Chinavasion's Rose Li the only option available to people now to prevent being the subject of unknown GPS tracking is to use GPS jammers.
Chinavasion's Rose Li said that there are several options available that will not only block GPS devices from transmitting signals but also prevent cell phone signals from allowing tracking as well.
According to Chinavasion's Rose Li the cost is as low as 20 US dollars in some cases.
"This is a problem technology has created, and provided a solution for," according to Chinavasion's Rose Li.
It is illegal to use and purchase a GPS jammer in the US and there are various restrictions in a number of other countries.
"Most international wholesale suppliers will send items anywhere in the world regardless of the law," according to Chinavasion's Rose Li. "It is up to the people importing it to find out local stipulations and make their own decisions."
Chinavasion's Rose Li thinks more will be willing to risk the repercussions as monitoring efforts by authorities becomes more draconian.
According to Chinavasion's Rose Li unlike other China wholesale companies, the GPS tracking device supplier keeps everything in stock so that items can be shipped out to customers in under one working day.
"Chinavasion clients know that by using our service they will have access to one of the best support networks on the internet and be able to guarantee their customers that their products will get to them on time and in good condition."
###