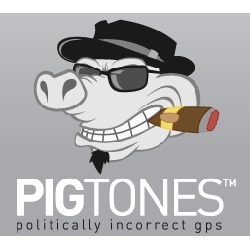 was a way of branding the company as
Dallas, TX (PRWEB) September 25, 2008
While political pundits debate the donkey vs. the elephant, a pig could be the ultimate October surprise. Dallas-based Pigtones.com, with their new GPS voices, has a novel idea on boosting voter turnout at the polls while helping improve the country's mood along the way.
As Dale Hensel, co-founder of PIGtones.com, (Politically Incorrect GPS voices), shared, "GPS systems can help anyone find their polling place destination. And if you happen to own a Garmin GPS or Tom Tom GPS unit, you can laugh your way right into the voting booth."
Hensel is referring to PIGtones GPS downloads: replacing the standard GPS voices with fun, entertaining and often politically incorrect voices. As Hensel continued, "We hear a lot about the candidates shaking up Washington. Well, we wanted to shake up the GPS industry. By the sounds of our GPS voices and the feedback from our customers, I'd say we've succeeded."
With a lot riding on this election, including energy policy, PIGtones isn't taking sides. As long as people need to drive and get directions, PIGtones promises to be an "equal opportunity offender." Hensel then added, "George W. and his unique butchering of the English language is one of our biggest sellers. I'm convinced the winner of the presidential election will join our growing GPS voices vault. Along with a few surprises, of course."
One of the biggest challenges confronting PIGtones.com is informing consumers that the nondescript voices can be easily and economically replaced. Having recently launched the new PIGtones.com website, Hensel shared, "It's amazing how so few people knew that Garmin GPS and Tom Tom GPS systems can have their GPS voices replaced. PIGtones is doing for GPS what ringtones did for cell phones."
PIGtones GPS downloads provide over a dozen "voicetones" from the familiar celebrity impersonator voices (Arnold, "W", Yoda, Elvis, even Stewey from Family Guy) to the more risqué and even downright controversial. There are voice samples for each on the site. In fact, the company name PIGtones" was a way of branding the company as "Politically Incorrect GPS."
Instead of waiting for the GPS manufacturers to offer voice alternatives, Hensel and his partners, Ryan Harper and Brad Costanzo, engineered their own solution. PIGtones.com offers its customers tutorial videos on how to replace the old GPS voices with new PIGtones GPS downloads.
The process simply connects the GPS unit to a computer with a standard USB cable. "It's so simple your grandmother could do it but she might be a bit surprised if not shocked listening to some of the voices" Costanzo adds.
To learn more about PIGtones GPS downloads and listen to over a dozen voice samples as well as claiming free POI (Points of Interest) maps, visit: http://www.PIGtones.com
For media inquiries, please go to http://www.PIGtones.com/mediaroom or call (972) 948-5767.
About PIGtones.com:
A leading-edge GPS software company, PIGtones.com brings innovation, entertainment and fun to the most popular GPS navigation systems. PIGtones GPS voices are available for easy installation with all Garmin and Tom Tom GPS systems. PIGtones also offers its customers thousands of (POI) Points Of Interest) Maps for immediate download.
http://www.PIGtones.com
###