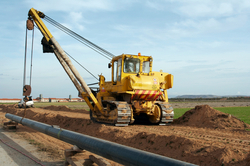 It can smoothly keep track of problems like speeding, excessive idling, maintenance, and unauthorized use of our trucks. It's a much more polished system than the ones I've seen in the past and saves me a lot of time versus the old systems
Edmonton, AB (PRWEB) June 19, 2008
Pipeline construction firm Arnett and Burgess has selected the SmartFleet® GPS fleet management system for their fleet of light and heavy duty vehicles in the Alberta oilfield. SmartFleet® will provide Arnett and Burgess the online tools they need to help manage the safety of their employees and the productivity of their equipment.
"I have been working with GPS tracking systems for several years now, and the SmartFleet system has the functionality that I've been asking for all along," said Arnett and Burgess' information technology manager Clayton Hinkey. "It can smoothly keep track of problems like speeding, excessive idling, maintenance, and unauthorized use of our trucks. It's a much more polished system than the ones I've seen in the past and saves me a lot of time versus the old systems," added Hinkey. "With the price of gas going upwards, it was a no-brainer to expand our truck tracking program and we've seen significant fuel and maintenance savings as a result," commented Hinkey.
A SmartFleet-enabled vehicle brings GPS safety through the monitoring of:

Speed
High G forces experienced by the vehicle (rough roads, poor driver behavior)
Maintenance alerts (time, distance, and engine hours)
4WD usage (on most models)
Door entry alarming with immediate notification
Cargo or vehicle movement detection
Time and location detection to determine when vehicles are entering or exiting landmarked sites (also known as a geo-fence or geo-zone)
When thresholds are reached, an alert is sent immediately from the vehicle to a desktop computer or phone through cellular communications and the internet so that key personnel can take immediate action. SmartFleet® fleet tracking software also provides daily, weekly and monthly fleet management reports so that users can analyze business metrics and driver behavior over time.
As well, SmartFleet-equipped vehicles can be optionally integrated to an industry approved panic button and personal motion sensors so that a supervisor can be notified of an employee in potential distress. This solution supports work alone safety in field operations as well.
"The Safefreight team is committed to bringing safety to the oilfield with our SmartFleet® system," said Safefreight CEO Curtis Serna. "We look forward to working with Arnett and Burgess to help them realize their safety and productivity objectives," commented Serna.
About Arnett and Burgess
Spanning over five decades beginning in 1957, Arnett and Burgess has built a solid reputation based on long term client relationships. Providing a complete pipeline and associated facility construction service, the company continually works to bring the highest standards of safety, reliability, environmental protection and efficiency to their business. For more information, visit http://www.abpipeliners.com
About Safefreight
Founded in 1998, Safefreight is a developer and provider of GPS fleet management technology. Through its SmartFleet™ system, Safefreight provides full fleet visibility through proprietary technology that integrates an onboard vehicle tracking device, vehicle to Internet software and cell or satellite communications. This oilfield GPS technology provides situational awareness of vehicles and the workforce operating them so that managers have the tools to optimize their fleet resources, customer service and safety.
# # #