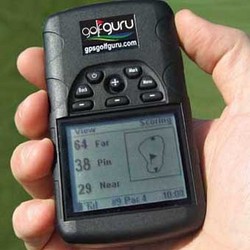 Austin, TX (PRWEB) November 29, 2007
Another first for the GPS Golf Guru Team, Golf Guru users can now connect to http://www.gpsgolfguru.com and download a GuruWare upgrade that includes integration of the Guru Scoring software with ISaAC golf's online handicapping system. Dubbed GuruCap, this integration with ISaAC golf's online handicapping system allows Guru users to keep score on their Guru and easily upload their scores to any of over fifty-six ISaAC Golf USGA handicapping sites. The $29.95 Guru Annual Membership includes GuruCap support as well as unlimited access to the Guru online course database. The GuruCap integration is the first step in a series of GuruWare releases that will include statistics capture, game analysis and more.
When asked about the ISaAC / Guru partnership, Murdoch McEwan, PGA Pro and ISaAc President, said, "We looked at all of the GPS Golf devices on the market before deciding to work with the Golf Guru team. What we found was that the Golf Guru is more accurate, smaller, lighter, more functional and easier to use that any of the competitors. Add this to the fact that the Golf Guru team invented GPS Golf, have the only product licensed under the dominant patent in the business, and have been building these systems for seventeen years, and the decision on who to choose was easy."
Greg Oglethorpe, ISaAC CEO, revealed that, "The current GuruCap integration is just the first phase of our integration with the GPS Golf Guru product line. I am extremely excited by the potential for game improvement that this and our planned future releases will provide. We are moving toward a system that will let golfers effortlessly track, manage, and improve their game in ways that were not only difficult, but close to impossible in the past."
"From day one, the GPS Golf Guru mission has been to unobtrusively provide golfers with the information they need when they need it to: 1) help improve their game, 2) make golf more enjoyable and 3) to speed up play. Providing a seamless scoring, handicapping and statistics capture system has always been an integral part of our strategy for achieving this mission. The trick is to do it in an easy to use, unobtrusive and cost effective way. We believe that we have accomplished this for handicapping with GuruCap. This doesn't mean that we will rest on our laurels, so expect to see a stream for new, customer driven GuruWare in the coming months," commented Golf Guru co-founder Darryl Cornish.
The only GPS golf handheld device licensed under the pioneering 5,364,093 US patent, the GPS Golf Guru is based on state-of-the-art GPS technology and open source solutions, allowing it to be smaller, lighter, more accurate and more functional that the competition (Compare Guru to the Competition). Like the Google Android and the iPhone, Golf Guru is on the leading edge of the emerging wave of embedded devices that leverage open source software to provide cutting edge solutions.
ISaAC Golf is America's fastest growing USGA online handicapping and game analysis system. Based in Houston, Texas, ISaAC provides an online handicapping and game analysis engine that is used by over 150 golf websites and 95,000 golfers. For more information go to http://www.isaacgolf.com.
Assistant Pro, Inc, maker of the GPS Golf Guru is based in Austin, Texas, and was created to help golfers improve their game using the founders' patented golf GPS technology. The founders include the developers of the first cart-based GPS golf systems and the Guru team have broad experience marketing technology to the golf and leisure industries. For more information, visit http://www.gpsgolfguru.com or http://www.isaacgolf.com.
# # #