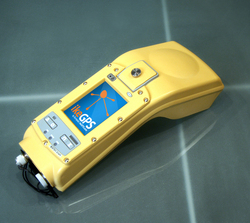 We've been overwhelmed by the responses so far
McLean, VA (PRWEB) April 23, 2009
When New Zealand-based Surveylab Ltd. launched a contest to give away an ikeGPS, they had no idea the response would be so enthusiastic. The ikeGPS is a unique line of handheld devices that integrates a GPS, digital camera, laser rangefinder, compass, and computer into a rugged, compact housing.
The contest launched by Surveylab, which continues through May 29th, asks companies to go to the Surveylab website and describe how the ikeGPS could transform their work. Responses will be evaluated to choose a winner, who will receive an ike305 model worth $8,900USD. "We've been overwhelmed by the responses so far," said Surveylab CEO Leon Toorenburg.
"What makes ikeGPS unique is its efficiency and verifiability: from a single spot, ikeGPS captures location-stamped images of multiple targets up to a half-mile from the user - allowing the user to remain safe or inconspicuous at all times. Having a digital image of the target means there is no mistaking one target object's location for another." said Toorenburg.
The current economic downturn in much of the world has forced public and private companies and organizations to do more with less. ikeGPS represents a leaner, more versatile approach in a market known for complex, multi-component systems that often require the user to stand right on the spot for coordinates.
"Customer demand for value is at an all-time high," explained Toorenburg. "When we show them the versatility and efficiency of capturing location data with the ikeGPS, it addresses their need for getting the job done well, but with less impact on their budget." Toorenburg says many contest entries are from municipal governments and public utilities across the globe. "These organizations need high-value devices to continue providing the same level of service."
The range of uses for ikeGPS is practically limitless. The South Australian state government uses ikeGPS to capture the detailed condition of dwellings owned by Department of Families & Communities spread across thousands of miles in the remote outback. More recently, Surveylab engineers have been working with the European Commission's Joint Research Centre (JRC) to utilize the ikeGPS in evaluating the damage caused by the Abruzzo earthquake in Italy.
ikeGPS enables users to remain in a safe location while capturing location data for targets in hazardous circumstances. The device's simplicity and reliability make it the ultimate field-expedient mapping tool which guarantees the integrity and continuity of captured information.
For more information on ikeGPS and to enter the ike305 Give Away Contest, go to the Surveylab website at http://www.ikegps.com
###