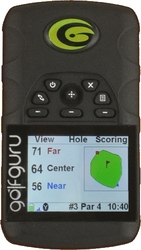 Austin, TX (PRWEB) September 30, 2008
Newly introduced from GPS Golf Guru, the GPS Golf Color Guru is the color GPS Golf Digital Assistant (GDA) of choice for the serious golfer. The Color Guru integrates advanced GPS technology with scoring and game tracking. Using the Guru, players can determine the distance to the pin, traps, hazards and greens. The golfer can also track the distance they hit their clubs, track statistics and much more.
The GPS Golf Color Guru's claims to fame include:

320 x 240 Pixel color screen with adjustable backlight
Stores 200 courses with up to 30 features per hole
Free map downloads from a rapidly growing list of over 10,000 courses available from the GpsGolfGuru.com website
Over 1,400 courses added and updated every month
Small, light weight and pocket friendly design
High accuracy, high sensitivity, tuned and matched, 16-channel GPS solution
WAAS tracking unrivaled in the GPS Golf market. Wide Area Augmented Signal (WAAS) improves the accuracy of GPS for more accurate distances to features and more accurate short measurement
Smart Green allows the golfer to move the pin on the display and view near, far and pin distances instantly. (Smart Green Feature)
Most advanced and accurate course mapping of any GPS Golf device including support of Smart Green in user mapped courses
Shot Guru allows golfers to record the distance of each shot for later review and lets the golfer enter the club and lie for any shot at any time during the round
Rechargeable battery with 14+ hours of playing time during normal use
Easy to use, advanced course mapping features
Best customer support in the industry
Darryl Cornish, Guru Co-founder commented, "The GPS Golf Guru team is very excited about the introduction of the Color Guru. The Color Guru builds on the success of the Original GPS Golf Guru and adds a high resolution, brilliant color display with storage for 200 courses. Combine this with attractive introductory pricing, advanced functionality and the proven GPS Golf Guru receiver design, and the result is the best value in the Golf GPS market."
Assistant Pro, Inc, DBA GPS Golf Guru, based in Round Rock, Texas and Cochrane, Alberta is a technology company created to help golfers improve their game. The Golf Guru team includes the inventors of GPS for golf and the developers of several generations of cart-based GPS golf systems. For more information, visit the GPS Golf Guru Website or email info @ gpsgolfguru.com.
###