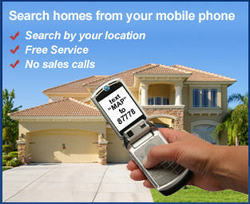 San Diego, CA (PRWEB) September 16, 2009
HouseRebate.com, San Diego's top value real estate broker, has launched a cutting-edge home search application that helps buyers do research directly from their mobile phones using GPS. With the fully downloadable Homes for Sale, buyers can search for San Diego property anytime, anywhere with the touch of a button.
This powerful application enables anyone with a cell phone to find homes, access San Diego MLS property listings and even connect to a Realtor® who can provide additional information. Sales price, square footage, tax information, beds/baths, interior and exterior features and pictures become available instantly in the palm of their hand.
Users can search by GPS location, property type, distance from current location or simply enter an address to get listing information throughout San Diego, California. This search tool makes it possible for homebuyers to pull up to a home and get all the for sale details instantly on their mobile phone.
Brian Yui, CEO of HouseRebate.com states "This mobile phone tool makes it faster and easier to obtain valuable information about a property, without having to be at a computer to do so. Potential buyers can be in a neighborhood in which they are interested and find the closest properties for sale around them."
To get started, consumers can text "MAP" to 87778 into their phone to get this home buying tool or visit HouseRebate.com. The service is free; the software is available on 95% of mobile phones including the iPhone and BlackBerrry. The user information always remains confidential.
HouseRebate.com, a member of the National Association of Realtors®, is a full-service value real estate company that maintains a seasoned staff of agents. They provide all the services that traditional real estate offices offer at discount prices, with reduced commissions on sale, and rebates 33 percent on commissions of purchases. HouseRebate.com features a virtual foreclosure tour bus that shows currently available San Diego foreclosure properties and provides the complete San Diego Multiple Listing Service (MLS) online.
###