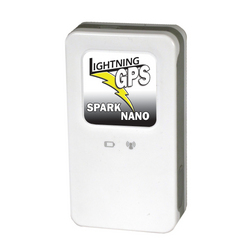 We asked customers what they wanted and the message was clear
New York, NY (Vocus) March 18, 2009
Demand for tiny GPS Trackers has spread from police and military investigators to soccer moms wanting to keep an eye on family members. Lightning GPS , the primary supplier of covert GPS Tracking to military and law enforcement is moving aggressively to meet this demand.
Lightning GPS announced today that it would release the tiny "Spark Nano" GPS Tracker to the general public. Venturing into the consumer sector is a radical move for Lightning GPS, a company well known as the main provider of covert GPS Tracking to Police Departments, the Military, and DHS.
Sometimes tiny just isn't small enough.
"Everyday we field desperate calls from parents who are begging us for implantable GPS Trackers that they can use to track their family members," says Jason Lazarus, VP of Research and Development for Lightning GPS. "There is a very real demand for this technology that is just not yet available to the public."
With its "nano" size and friendly look & feel, the Spark Nano GPS Tracker has a strong appeal with everyone from parents to Professional Investigators who desire stealth tracking. About the size of a 9-Volt battery, this rugged, waterproof tracker can go anywhere and track anyone.
"We asked customers what they wanted and the message was clear," says Lazarus. He explained, "Consumers want all the features and accuracy of a professional GPS Tracker without the cost or complex software associated with most military grade GPS Trackers. Our team successfully developed a system that combines all of the professional grade GPS Tracking features in the smallest possible, easy-to-use package."
The new web-based tracking system designed for the Spark Nano is so easy-to-use, that Lightning GPS launched a Free Live Demo that requires no training at all to get started.
This is the first "consumer friendly" military grade GPS Tracking system available to the public. Its versatile design and user friendly interface makes it perfect for tracking employees, vehicles, or family members. There is even a Panic Button to make this tiny GPS Tracker a personal safety beacon that alerts people when the wearer feels they are in danger, pointing out exactly where they can be found. The same powerful features professional investigators expect such as e-mail/text alerts, and even geofence to get alerts when entering or exiting geographic areas are built in.
Spark Nano Features:

Smallest GPS Tracking Device Available to the public
Panic Button For Sending Emergency Alerts
Waterproof and Extremely Durable
5 Days of Continuous Tracking w/ Internal Rechargeable Battery
Automatic E-mail / Cell Phone Alerts
"Safety Zone" Technology Can Alert You Upon Entry Or Exit Of A Defined Area
Track From Your Cell Phone or The Web
Availability: The Spark Nano is shipping as of today. Consumers and small businesses can contact BrickHouse Security (BrickHouse Security ) the exclusive retail distributor in North America. Corporate and government clients can contact Lightning GPS Directly for Server Licensing and large volume orders. Volume discounts are available as well as the ability for government and corporate customers to buy the server for use behind their firewall.
About Lightning GPS:
Lightning GPS is the largest provider of GPS Tracking technology to law enforcement, military, and business. Whether it is family, consumer, business, or law enforcement tracking, Lightning GPS has a GPS Tracking solution for every security need no matter how large or small.
###