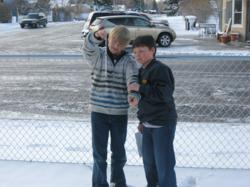 The power of GPS tracking using miniature devices that send text messages to your Smartphone and allow you to retrieve location maps is beyond incredible.
(PRWEB) May 10, 2011
There are lots of things to keep track of in today's world – aging parents, children, company vehicles, pets and more. What if a technology existed that allowed tracking loved ones and other valued possessions with such pinpoint accuracy that they would never be lost? This revolutionary technology is available now in a device called the Garmin GTU10.
Garmin International Inc., a unit of Garmin Ltd., recently announced the introduction of the Garmin GTU 10 GPS tracking device. This device uses satellites, in combination with the AT&T wireless network, to track objects and relay messages to a smartphone that can subsequently locate the device, along with whatever is attached to it.
"The number of applications for this technology is only limited by the imagination," said Rusty Squire, president of the Heart Rate Watch Company, a national online retailer. Squire continues, "You can track children or aging parents, and receive text alerts straight over the AT&T wireless network."
The actual Garmin GTU 10 device is a transmitter, so unlike GPS watches for fitness, like the Garmin Forerunner 610 that only works as a receiver, these devices send location coordinates up to a satellite. The satellites then send a signal to the AT&T wireless network which sends a text update to your smartphone. GPS mapping identifies the location of the device on your smartphone.
The nice thing about the Garmin GTU 10 tracking device is the ability to set up perimeter boundaries that are polygons, rather than a radius. This polygon type of boundary is far more useful because blocks and neighborhoods are generally set up in a grid, meaning that this device can use streets and blocks as boundary lines.
"For companies wishing to track vehicle fleets, baby boomers wishing to track aging parents, and young families wishing to keep a watchful eye on the children, this device has value," says Squire. He continues, "Imagine being alerted when your child wanders off from a school field trip so that you can intervene before anything happens". Managing life's risks and challenges seems to be what the GTU 10 device does best.
HOW THE SERVICE PACKAGE WORKS
GTU 10 tracking capabilities are a result of combining AT&T's nationwide wireless network with high-sensitivity GPS. GTU 10 has a suggested retail price of $199.99, which includes a full year of standard tracking. Each day you can use up to 10 points of daily track history and your standard tracking can be renewed at an annual rate of $49.99 after the first year of complimentary service.
For those who want a more detailed history, the Deluxe Tracking service plan ($4.99 per month) can access seven days of track history. Each service plan includes the option to automatically renew upon expiration and there are no early termination fees, no activation fees and no contracts.
FINAL THOUGHTS
The Garmin GTU 10 GPS tracking device was awarded the Editor's Choice Award by Popular Mechanics and is certainly well worth a look if you own a smartphone and need to track something important. Dick Tracy, the futuristic cartoon character of the 1960's, would have wanted one of these things to go with his radio watch.
While the present limitations are the AT&T network in the domestic United States, which covers most everywhere, we can envision Garmin moving to expand that network to one of more global scale in the years ahead.
###