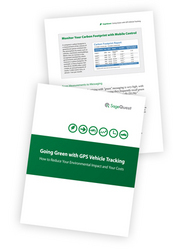 SageQuest helps us further our green initiatives through fuel conservation and through the timely and efficient manner we are able to maintain our vehicles.
Cleveland, Ohio (Vocus) August 11, 2009
GPS fleet tracking and solution provider, SageQuest, is responding to a growing interest in green initiatives with a new campaign to raise awareness of how its solution reduces environmental impact alongside the core customer benefits of reducing costs and improving productivity. This campaign includes a new Carbon Footprint report available inside its Mobile Control product, along with a new whitepaper resource to help customers and prospects make the case for a green initiative and get one off the ground.
In a recent survey of customers, SageQuest found that fifty seven percent either had a green initiative in place or were planning one. With more business opportunities requiring or preferring vendors with proven green initiatives it is no surprise that more companies are looking into initiatives, now so they are not left behind by their competitors.
"The good news for our customers is that they are becoming more green every day that they use our product," said Todd Ewing, Senior Product Manager at SageQuest. "They often look at reducing mileage, idle time and speeding from the perspective of cost savings, but these same reductions are simultaneously decreasing their carbon footprint. As green initiatives become less the exception and more the rule, our customers are already positioned to demonstrate their environmental responsibility."
According to Jeremy Standifer of Fugro Consultants in Texas, "SageQuest helps us further our green initiatives through fuel conservation and through the timely and efficient manner we are able to maintain our vehicles."
In fact, SageQuest has helped thousands of companies go green over the years and estimates, that with Mobile Control's capability to monitor idling time and minimize routes and mileage, it has helped customers save more than 6 million gallons of gasoline and 32,000 tonnes of greenhouse gases. This is the equivalent of planting 160,000 trees.
Announcing New Green Reports and Resources
SageQuest is making it easier for customers to understand their environmental impact with its new Carbon Footprint report. The Carbon Footprint report uses fuel consumption data to calculate the metric tonnes of carbon dioxide emitted by a fleet over a time period. Customers set a current benchmark, and then monitor progress towards reducing their fleet's footprint size over a period of time. Mobile Control's reports and alerts on items like mileage, idling and speeding activity help them understand exactly how they are reducing their footprint and what opportunities exist to reduce it further.
Along with the new Carbon Footprint report, SageQuest has also published a new whitepaper entitled, "Going Green with GPS Vehicle Tracking: How to Reduce Your Environmental Impact and Your Costs." This whitepaper demonstrates why a business should consider going green, and then delivers easy steps to create, maintain and communicate a green fleet initiative. To download a copy of the whitepaper or for more information, go to http://www.sage-quest.com/gogreen or call (888) 837-7243.
About SageQuest
SageQuest LLC provides proven GPS fleet tracking and management solutions that improve the efficiency and productivity of mobile workers for delivery, construction, field service, utility, cable and broadband companies throughout North America. SageQuest's Mobile Control compliments workforce management tools to provide real-time insight into technician and vehicle activity, providing actionable decision-making information for dispatchers, supervisors and executives. Mobile Control is a software-as-a-service (SaaS) solution which helps customers minimize their upfront capital investment. For more information about SageQuest, visit http://www.sage-quest.com, or call (888) 837-7243.
###