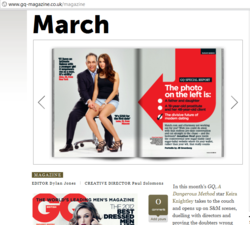 Love is a concept invented by poor people. For everyone else, there's SeekingArrangement.com
New York City, NY (PRWEB) February 14, 2012
Seeking Arrangement, the world's largest sugar daddy dating website, is being featured exclusively in a 7 page Special Report in the world's leading men's magazine this March. The British edition of the GQ Magazine featuring the website is currently on sale at newsstands worldwide.
"Being featured exclusively in a Special Report by the GQ Magazine is a big win for Sugar Daddy dating and for SeekingArrangement.com," says Brandon Wade, the website's Founder & CEO. "When it comes to love, a little generosity goes a long way. For this reason, I am confident the successful male readers of GQ Magazine will be delighted to learn that our website can match them with the ideal women of their dreams."
Unlike other articles that have been written about the website, GQ's Features Director – Jonathan Heaf – took an in-depth approach to his review of the website he calls the "divisive future of modern dating". In addition to an extensive interview with the website's Founder, the magazine will also feature portraits of three Sugar Daddy and four Sugar Baby members of the website shot by award winning celebrity photographer – Jill Greenberg.
The following are excerpts of the interview with Mr. Wade:
On why women join SeekingArrangement.com: "Gentlemen are a dying breed, especially in America. I think there's this feeling that women have gone through a lot to fight for feminist rights, and now they are, indeed, equals. But they've lost something along the way. In becoming equals, so the etiquette of being a traditional gentleman – standing up when they enter, opening doors, paying for dinner on the first date – has been lost. This is what draws a lot of women to the site … [to be] taken care of by a stronger man is – deep down – what a lot of women are really long for."
On the idea of Love and Money: "… love is a concept that's been invented by poor people... calling sugar babies 'prostitutes' [because they] want something more out of a relationship than just this abstract notion of love is a comment and a stigma that is born from pure jealousy. [For those who do not have anything else] … they have love. For everyone else there's our website."
For more information about SeekingArrangement.com, please visit our website.
For a press interview, or for a press pass to attend our upcoming Sugar events in New York, London, Los Angeles, Miami or Toronto, please contact Jennifer Gwynn at 702-241-0100 or email press (at) seekingarrangement.com.
About SeekingArrangement.com
SeekingArrangement.com is the world's largest online dating website for Sugar Daddies and Sugar Babies. Launched in 2006, the website currently boasts over one million active members worldwide. In the past few months, SeekingArrangement.com has been featured nationally and internationally by top media outlets, including The New York Times, The Wall Street Journal, The Miami Herald, The Philadelphia Daily News, ABC's 20/20, CNN Headline News, The Today Show, Good Morning America, Dr. Phil, Dr. Drew, Nancy Grace, MTV True Life, and many others. Founder & CEO, Brandon Wade, is also the author of "Seeking Arrangement: The definitive guide to Sugar Daddy and Mutually Beneficial Relationships".
###