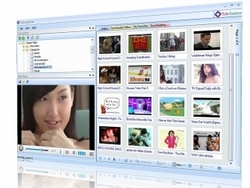 (PRWEB) July 18, 2008
Vowsoft has released Tube Explorer v. 2.5, a Windows program that makes YouTube more fun. With Tube Explorer, it's easy to search, browse, download, and convert videos from video-sharing web sites such as YouTube, Yahoo! Video, Google Video, MetaCafe, and DailyMotion.
Tube Explorer eliminates most of the frustrations of watching Internet videos. With Tube Explorer's unique built-in video browser, you can quickly and efficiently search and browse videos from all of the popular video sites. Simply gather your favorite videos from all of your favorite sites, and watch them online later. In addition, you can batch download multiple videos with a single click. Once they're on your hard drive, it's easy to watch, sort, copy, move, or convert your videos. So you can using it as a YouTube downloader, Yahoo Video downloader for download YouTube videos, download yahoo videos and more.
Tube Explorer's conversion processing supports all of the major video formats, so you can watch movies on your MP3/MP4 player, iPod, iPhone, or PSP. With a single click, you can turn your downloaded movies into 3GP, 3GPP2, MP4, MP3, WMV, AVI, VCD or DVD formats. The built-in editor lets you trim, cut, or split videos. You can also join multiple videos into one large video file.
There's no need to learn how to use the interfaces of multiple Internet video sites. Tube Explorer lets you find and watch videos from all of your favorite video sites, all from within one simple interface. Browse videos the way you want to. For example, on YouTube, you can browse Hot videos or New videos, or browse by author, or perform custom keyword searches.
Tube Explorer is fully customizable, to fit your tastes. You'll have quick access to tools and customization features. Create custom screen layouts, and design the toolbar and menubar to suit your preferences.
Unlike other video watching software, Tube Explorer requires no browser plug-ins, presents you with no advertisements, and doesn't clutter your screen with useless information. It simply serves up the videos that you want to watch. Tube Explorer is fast, easy to use, and fun.
Tube Explorer v. 2.5 runs under Windows 2000/XP/2003/Vista/2008, costs $34.95(US) for an individual license, and may be purchased Tube Explorer securely online. You can download a 14-day trial version from the same web site. For more information, visit Tube Explorer Homepage or write to sales(at)tubeexplorer.com.
Editorial Evaluation Copy Available on Request
About Vowsoft Ltd.:
Since 2002, Vowsoft has been creating and marketing multimedia Windows software for home and business users. In addition to Tube Explorer, the company also offers PicaLoader, a powerful Windows utility that lets you find, view, download, and manage images from the Internet. For more information, visit Picture Downloader.
###