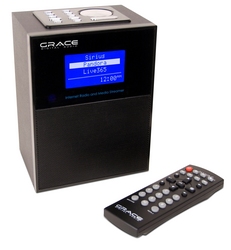 Control any Grace internet radio including the new Allegro from any room in your home with the free iPhone remote control app
San Diego, CA (PRWEB) February 23, 2010
Grace Digital internet radios receive over 16,000 local and worldwide radio stations. Whether in downtown Manhattan or rural America every station plays in pure digital crystal clear sound, with no static or fading. Listen to favorite local AM/FM radio stations, or choose a station from around the world, no computer required.
The Allegro (model: GDI-IRD4000) complements the Family of Grace Digital Audio internet radios by adding smart charging battery technology. The radio's built in battery charger allows a customer to use standard alkaline or store bought AA rechargeable NiMH (nickel metal hydride) batteries. When the radio is AC powered the radio senses the use of rechargeable batteries and provides the appropriate charge. The Allegro wireless internet radio will play for more than 8 hours on a standard charge.
In addition to streaming internet radio sports, news, talk and music such as Pandora, PREMIMUM SIRIUS internet radio, Live365, iheart radio, NPR, BBC, FOX, CNN, CNBC, and NOAA weather alerts Grace Internet radios include wireless audio streaming from any connected home Apple or PC, making Grace internet radios the perfect source of entertainment for the office, kitchen or family room.
About Grace Digital
Grace Digital is a designer and manufacturer of connected home consumer electronic products including, Internet radios, media players, USB archival solutions, wireless speakers and other personal communications products. Based in San Diego, California, Grace sells its products through major retailer, ecommerce sites, dealers and distributors throughout North America. To learn more about Grace Digital products please visit Grace at http://www.gracedigitalaudio.com.
###