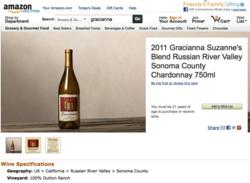 We are pleased that Amazon customers will have easy access to our brilliant wine.
Healdsburg, CA (PRWEB) November 13, 2012
Gracianna Winery announces today that their store has launched on the Amazon Wine Marketplace, joining other premium wineries that were exclusively invited to offer their ultra-premium wines to millions of Amazon customers. The Amazon Wine Marketplace is designed to bring the tasting room experience online by offering an abundance of quality wine information, images, and reviews to help customers chose wines with only a few clicks.
Also on this date, Gracianna's founding partner Trini Amador III announces the publication of his account of the life of Gracianna Lasaga, which is inspired by true events. Mr. Amador's book, entitled Gracianna, is slated for publication by Greenleaf Book Group in July 2013. It is the thrilling story of Gracianna's struggle to get to America from occupied Paris during World War II. Naturally the book, along with select Gracianna wines, will be featured on Amazon as well as other outlets.
"My great-grandmother was French-Basque. When I was young she used to talk a lot about being thankful. One day when I was four years old we were alone in her home in Southern California – it was fifty years ago, she came from the kitchen into the living room and I was standing there holding a loaded German Luger. All these years later, little did I know the amazing surprises I would find when I began to dig deeper into the meaning of that Luger. My research took me to the Pyrenees, Paris and eventually, and surprisingly, Auschwitz. Naturally this chilling story had to be told, and I'm proud to be able to offer it alongside the wine that bears her name."—Trini Amador, III, Partner
Amazon's Wine Marketplace is for wine enthusiasts who have a passion about wine and want to explore, discover, learn and purchase premium wine online. Gracianna is proud to offer its selection of wines that fit with Amazon's focus on the customer; the Amador family's dream to share warmth, graciousness, gratitude and its award-winning wines can now be extended nationally for millions of wine enthusiasts to sample and enjoy.
Gracianna is proud to join the other premium wineries chosen to launch the Amazon Wine Marketplace and sees the fit between the strengths that Amazon offers—their focus on the customer, their ability to promote across categories, the value offered to wine consumers, and the service they are known for—and the values that Gracianna Winery espouses.
"As we've grown Gracianna, we deliberately take time to evaluate and carefully consider how our plans will impact the core values of our brand. We believe that Amazon's new wine marketplace fits squarely with our belief of simplifying and streamlining the wine purchasing process for Americans. We are impressed by Amazon's service and knowledge of wine and are proud to have been selected as one of the inaugural wineries at the launch. We are pleased that Amazon customers will have easy access to our brilliant wine and expect our wonderful relationship with Amazon to only grow with the release of Gracianna, the book, next year. This was an easy marriage!"—Ashley Amador, Partner
The Gracianna wine store on Amazon officially opened for business on November 9, 2012. Please visit http://www.amazon.com/wine; Gracianna's page is at http://amzn.to/YXvwht. For information on Gracianna, the book, please visit http://www.gracianna.com/gracianna-the-book.
About Gracianna Winery
Gracianna is a Russian River Valley "fruit-first" craftsman's winery, owned by the Amadors of Sonoma County. The Amador's estate vineyard, Mercedes Riverblock, is planted to pinot noir on the Miracle Mile on Westside Road in Healdsburg. Make an appointment at the tasting room at 6914 Westside Road, Healdsburg to sample award-winning wines. Gracianna symbolizes everyday gratitudes and graciousness in entertaining, because we believe that successfully hosting a special meal with friends and family is an everlasting circle that fills our lives. Gracianna wine is for those who have something to be grateful for. Visit Gracianna at http://www.gracianna.com
For more information on Gracianna Winery, contact Ashley Amador at 707-694-6644 or "ashley.amador@gracianna.net". Tasting Room appointments can be made by contacting "tastingroom (at) gracianna (dot) net" or calling 707-486-3771.
About Greenleaf Book Group
Greenleaf Book Group is a publisher and distributor best known for its innovative business model, distribution power and award-winning designs. Named one of the fastest growing companies in the United States by Inc. magazine, it has represented more than 1,000 titles, including more than 22 that have hit the New York Times, Wall Street Journal or USA Today bestseller lists. You can learn more about Greenleaf on its website http://www.greenleafbookgroup.com.