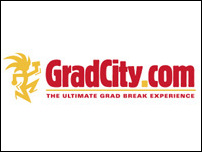 We are all about safety and with GradCity.com's planned trips, we want high school students to have unforgettable travel experiences as well as having their parents approval
Peabody, MA (PRWEB) July 25, 2006
StudentCity.com recently became a part of one of the world's largest travel companies, First Choice Student Travel. As part of a five billion dollar travel conglomerate, Studentcity.com and its high school division, GradCity.com, have become one of North America's leading student travel companies. StudentCity.com's affiliation with First Choice Student Travel benefits both StudentCity.com and GradCity.com by providing more credibility within the student travel organization.
With the highest staff to student ratio in the industry, GradCity.com offers high school students opportunities to travel safely with GradCity.com's parent approved program. This allows parents to go on student trips or know that their child is being supervised 24/7 by GradCity.com's trained professional counselors. GradCity.com's destinations include Puerto Vallarta, Acapulco, Cancun, Jamaica, Bahamas, Orlando and South Padre Island to name a few.
"We are all about safety and with GradCity.com's planned trips, we want high school students to have unforgettable travel experiences as well as having their parents approval," comments Joe Bush, Vice President of GradCity.com. "By teaming up with First Choice Student Travel, it gives us more accreditation so parents feel comfortable allowing their children to travel and have the fun they've earned."
First Choice Holdings, Inc., is comprised of not only Student Travel but also marine expeditions, independent vacations and island cruises. First Choice has been operating since 1973 and has been listed on the London Stock Exchange since 1982. To find out more information about GradCity.com and their high school trips visit http://gradcity.com.
About GradCity.com
GradCity.com is the high school division of StudentCity.com, the nation's leading company in student travel. Our travel professionals have successfully operated tours to the Caribbean, Mexico and Florida since 1987. Our accreditations include the Better Business Bureau Care Program, American Society of Travel Agents TOP, National Tour Association, International Airlines Travel Agent Network, $950,000 Consumer Protection DOT Bond, and $10,000,000 Professional Liability Insurance.
###