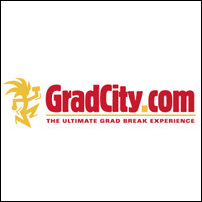 Homecoming is an exciting time of year for high school students and we want to make it extra special this year by bringing this contest to them
Peabody, MA (PRWEB) October 12, 2006
GradCity.com is giving high school students the chance to celebrate their homecomings in style with MTV Celebrities. GradCity is encouraging high school students to take part in making their homecoming more enjoyable along with learning about Grad City's affordable student travel trips. Sign ups received by October 14, 2006 (east coast) and Oct 31st (nationwide) will be included for contest.
Students that partake in the GradCity Celebrity homecoming contest and win, will receive one couple double date with Jessica or Kyndra from MTV's hit show Laguna Beach and Zach from The Real World Key West. The MTV celebrities will be visiting the GradCity homecoming events and riding along with the winners via a Hummer stretch limo to either lunch or dinner chosen by GradCity depending on the time of day in the city.
"Homecoming is an exciting time of year for high school students and we want to make it extra special this year by bringing this contest to them," comments Joe Bush, Vice President of GradCity. "Students that are interested in either a winter break trip, spring break trip or grad break trip and sign up by October dates have the chance to win not only the homecoming contest, but also have an opportunity to experience of one of GradCity's many travel destinations."
GradCity is sponsoring this year's Celebrity Homecoming contest including round trip transportation and a meal experience. There will be photo opportunities and signed autographs with Jessica or Kyndra and Zach from MTV. Participation constitutes entrant's full and unconditional agreement to and acceptance of the rules found on the GradCity.com Web site.
About GradCity.com
GradCity.com is the high school division of StudentCity.com, the nation's leading company in student travel. Our travel professionals have successfully operated tours to the Caribbean, Mexico and Florida since 1987. Our accreditations include the Better Business Bureau Care Program, American Society of Travel Agents TOP, National Tour Association, International Airlines Travel Agent Network, $950,000 Consumer Protection DOT Bond, and $10,000,000 Professional Liability Insurance.
###