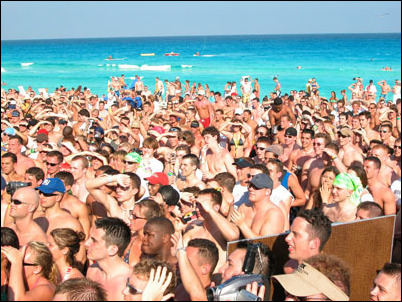 Peabody, MA (PRWEB) July 5, 2006
GradCity.com, the First Choice student travel organization, is giving students the opportunity to travel free for Grad Break and earn cash. GradCity.com is looking for students to fill the position of organizers, and in return will be rewarded for their work. GradCity.com is looking for students from all over the country to help promote GradCity.com's travel packages at their high schools.
The student travel service offers opportunities to meet celebrities, be a part of on-site VIP parties and provides access to VIP Rope Rooms at clubs. The student travel deal also comes with a commission plan that gives grad breakers the chance to receive huge rewards as they reach new levels of achievement. Organizers have the ability to set their own goals with unlimited earning potential.
GradCity.com encourages students to sign themselves up when they can be best committed. "School is priority, that's why we give students the flexibility to work around their class schedule while still receiving great rewards and cash," comments Joe Bush, Vice President of GradCity.com. GradCity.com believes the organizer program is a great resume builder in addition to student's educational experience and extra curricular activities.
GradCity.com Organizers work with the student travel staff and sales team, who are experts in Grad Break, to receive training on exactly what and how to promote. By students partaking in GradCity.com's Organizer program, they have the chance to meet fellow organizers from all over the country. GradCity.com provides students with new skills and experience that will look great on a college application and resume. Students can expect to learn more in organization, marketing, sales and leadership skills. To learn more about how to become a GradCity.com Organizer, visit GradCity.com.
About GradCity.com
GradCity.com is the high school division of StudentCity.com, the nation's leading company in student travel. Our travel professionals have successfully operated tours to the Caribbean, Mexico and Florida since 1987. Our accreditations include the Better Business Bureau Care Program, American Society of Travel Agents TOP, National Tour Association, International Airlines Travel Agent Network, $950,000 Consumer Protection DOT Bond, and $10,000,000 Professional Liability Insurance.
# # #