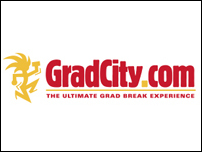 Peabody, MA (PRWEB) August 10, 2006
Students are being recruited to take part in making their senior year memorable by signing up to be an organizer of high school trips.
GradCity.com is looking for high school student travel planners to take part in making their senior year memorable. Students who become involved in the GradCity program are encouraged to share information with friends and students about GradCity vacation deals and become a Promo Team Member. GradCity sales representatives cover the details about GradCity high school vacation trips and the registration process for students and parents, while student Promo Teams help promote the trip. Students who partake in becoming GradCity Promo Team Members have the opportunity to go on more vacation trips and earn additional money in return for recruiting students.
Students today take part in the growing popularity of social networks such as MySpace and Facebook to connect with other friends and students. GradCity noticed that student Promo Teams connect to share pictures and other memories from past high school trips as well as upcoming ones. GradCity Promo Teams share such things like grad break, school sponsored trips, spring break, winter break and other trips to help generate ideas for the trip they may be planning.
GradCity encourages student Promo Team to gather friends and students to make a group of at least 15 students who will be able to participate in the high school trip; however, any number of students may attend. Student travel planners who get at least 6 - 10 vacation deals sold are given $100 off their trip total. If a student Promo Team sells 11-14 vacation trips, then students receive $250 dollars off. Student Promo Teams that are able to sell more than 14 trips can start to earn free trips for themselves. GradCity sets no limits for the amount of trips or cash earned. GradCity offers more destinations than any other company in the industry, thus allowing students from the same school to choose the destination of their choice, and not being tied down to only one vacation selection. It also allows them to create trips tailored to the specific needs of their group.
Student Promo Teams can get other students involved by using sign up sheets to collect names and email addresses, using email to inform student and parents about more specific details, as well as utilizing the popular social network, MySpace, to send out bulletins with information. GradCity.com staff assists student Promo Teams throughout their recruiting experience to ensure the registration process is completed and students and parents are given all necessary information for the student trip. For more information on becoming a Promo Team Member or how to sign up for a GradCity vacation deal visit http://www.gradcity.com.
About GradCity.com
GradCity.com is the high school division of StudentCity.com, the nation's leading company in student travel. Our travel professionals have successfully operated tours to the Caribbean, Mexico and Florida since 1987. Our accreditations include the Better Business Bureau Care Program, American Society of Travel Agents TOP, National Tour Association, International Airlines Travel Agent Network, $950,000 Consumer Protection DOT Bond, and $10,000,000 Professional Liability Insurance.
###